If you are hunting for an affordable and beginner-friendly email marketing software, you can find a wide selection of options including Mailchimp and Mailerlite. However, to find the ultimate choice for your business – you want to look at our MailChimp vs Mailerlite comparison. 
To make the right choice, you want to look beyond the affordability and pick the best features to suit your needs. Ultimately, you want to go for software that better suits your business. In this comparison of Mailchimp vs Mailerlite, we break down the key features that make each software stand out so you can make the right choice for your ecommerce business.
Top MailChimp and Mailerlite Features
When it comes to picking the best email marketing software amongst the two, it is worth comparing their features. Doing so allows you to choose the perfect option amongst the two for your business.
User Interface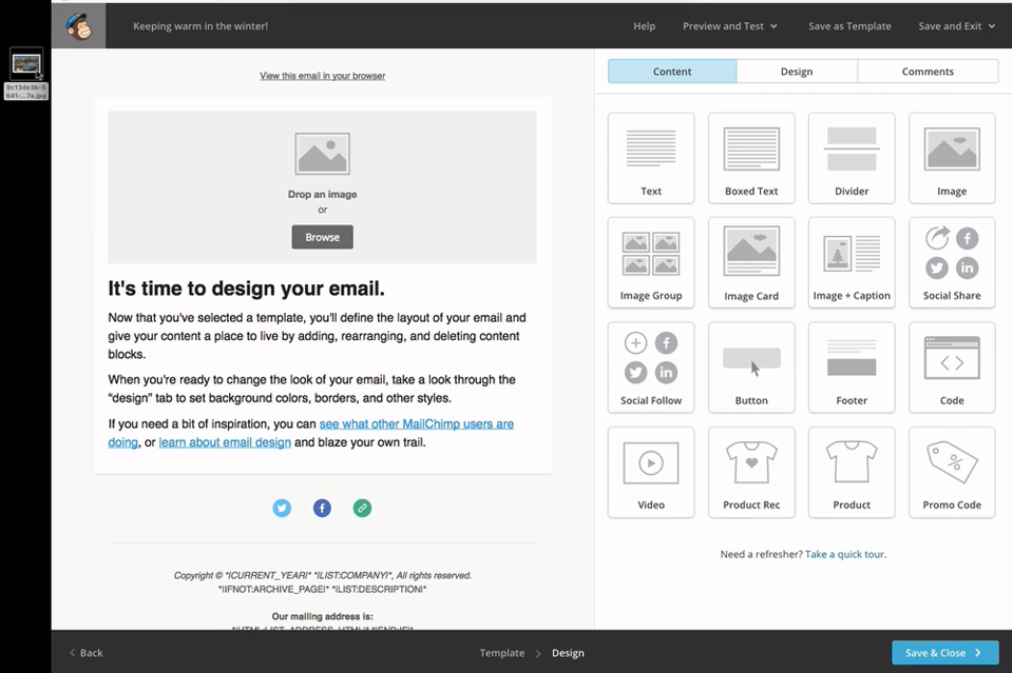 Looking at the user interface between these two lightweight marketing services, MailChimp has a more modern design compared to Mailerlite. Nevertheless, if you are looking for something simplistic, Mailerlite is a perfect option as long as you are willing to look past the outdated green and white interface.
The interface design makes it easy even for beginners to navigate – offering a basic choice of four menu options, i.e., automation, forms, subscribers, and campaigns. This even means that you will spend less time browsing through user guides. Whilst MailChimp features a more up-to-date user interface design, it boasts impressive usability too.
It even offers personalized support based on the type of website you are building to help make your future processes easier. The in-message support throughout the menu options you click allows you to make the most out of the interface – even if you are not familiar with the software. 

Marketing Features
When it comes to the email marketing features, MailChimp is a little more advanced than Mailerlite – particularly in the areas of automatic segment builder and autoresponder templates – making it perfect for those looking for deeper segmentation.
Mailerlite on the other end offers all the basic features that any business would benefit from. However, you certainly have to pay for a plan if you want to enjoy free templates and save time on email design. This is because its free plan doesn't contain free templates.
It still, however, offers great segmentation features too. You can tailor messages based on the campaign, sign up date, and even level of activeness. Its form building feature also allows you to customize pop-ups and embedded forms.

Automation
With automation, MailChimp is more advanced – allowing you to automate email workflows at a deeper scale – including detailed onboarding settings. The higher the price plan, the more advanced features you will enjoy. Mailerlite on the other end is a little bit more basic.
You will be able to curate simple workflows such as welcome emails, abandoned cart reminders, and other similar mechanisms. Other simple workflows you can curate across all price plans include automation based on clicks and dates.
Want More Sales
from your Emails?
Then get FREE access
to our

Engagement Blueprint

.

Reporting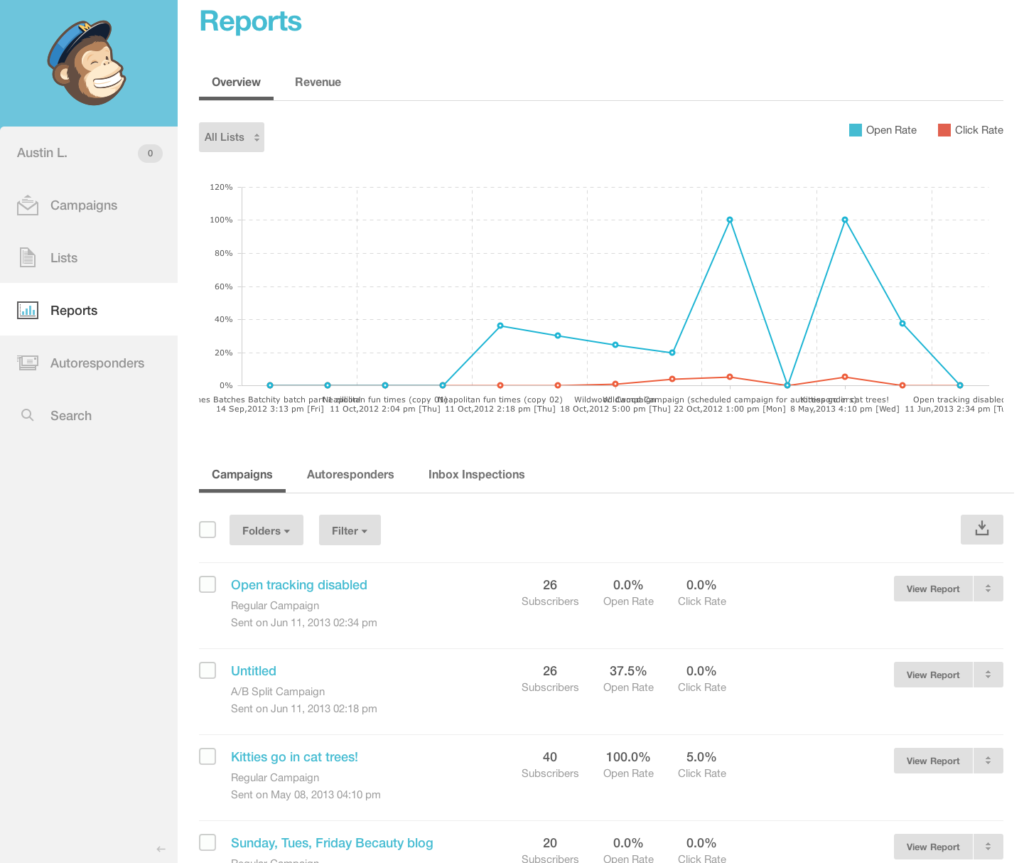 MailChimp offers a more intricate reporting option. However, if you want to begin enjoying more in-depth analytics, you want to go for at least the standard plan. MailChimp reporting even allows you to calculate and track ROI. Mailerlite on the other end is more basic. It tracks numbers for all the features and basic data such as clicks, opens, and subscriber engagement. 

Pricing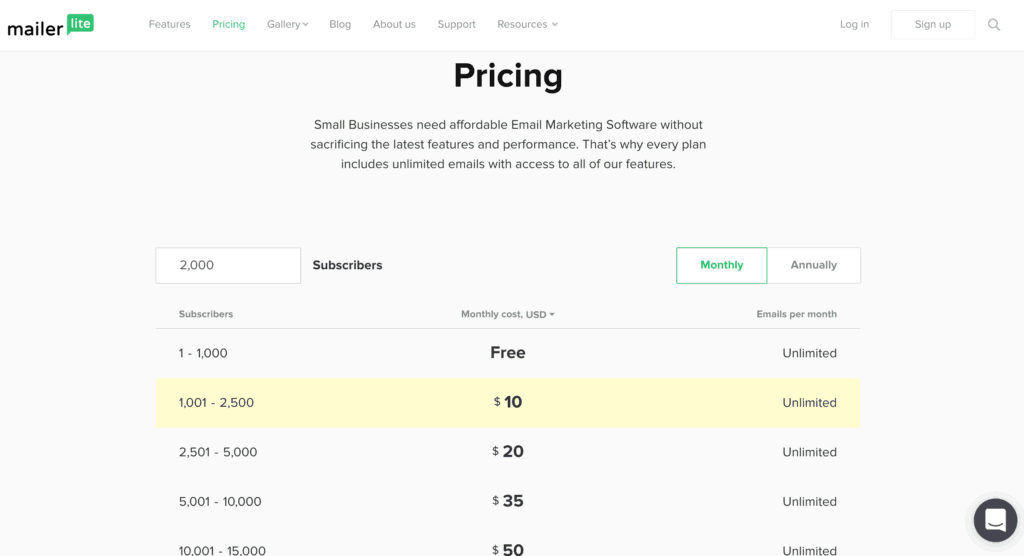 Both MailChimp and Mailerlite offer free basic plans. Mailerlite's free plan also offers nearly the same functions as the paid plans. However, it is limited to templates, live support, advanced scheduling, and analytics. Additionally, the Mailerlite logo will appear on all your emails.
When it comes to the pricing, the software offers a 14-day free trial for all plans plus, it allows you to send up to 12,000 emails per month. The plan ranges from $10 to $50 between 1000 and 10,000 subscribers. With MailChimp's free plan alone, you can send up to 10,000 emails to 2000 subscribers.
MailChimp's free plan also offers basic templates. However, you will not be able to build landing pages or conduct A/B testing. MailChimp prices are a little higher though. The pricing ranges between $9.99 and $74.99 based on the subscriber numbers. This ranges from 500 to 10,000.

Integrations
Mailerlite offers no more than 100 integrations with popular ecommerce, social media, and other app niches. MailChimp on the other end integrates with up to 200 apps. Whilst MailChimp offers twice as many integrations as Mailerlite, Mailerlite offers an API – allowing you to build extra integrations with any other app.
MailChimp integrations can be extended in terms of functionality by simply syncing them with different business software. MailChimp also allows you to use API to build other integrations – however, you need help from a third-party specialist.

Which is Better – MailChimp vs Mailerlite?
Both MailChimp and Mailerlite do an excellent job in terms of overall email marketing software performance. Both software options offer great functionality with features such as integration. Plus, both can be used for free via their free plans. Nevertheless, they also boast individual perks based on what you are looking for.
For example, if you want simple and straightforward software across all functions, Mailerlite is a better option. Whilst it comes with a free plan, even its paid plans are still quite affordable and budget-friendly for any business. MailChimp on the other end starts simply with its modern user interface – if you want a fancier yet, affordable software – MailChimp is best. 
You needn't even worry about getting accustomed to its interface as you will enjoy the in-app support as you go. Furthermore, across several features, Mailerlite offers more advancement to allow you to take your email marketing to a whole new level. MailChimp does exceptionally well in its easy-to-use features but lacks some advanced features such as its in-depth reporting, segmentation, and automation.