Everything you need to know about ConvertKit
Marketing Automation has been the way to go for a while. This is especially true for several businesses looking to explore Email Marketing as a means of growing their customer base. According to Capterra, the average return on $1 spent on email marketing is $44.25.
Thus, it is no surprise that it is one of the most engaged means of marketing. However, traditional businesses are not the ones looking to expand their reach. We now have content creators – bloggers, vloggers, podcasters, photographers, etc. – who have an audience to reach and engage.
ConvertKit is an Email Service Provider built specifically for this kind of people.

As described on the company's website, ConvertKit is an email marketing software for creators, by creators. The idea of the software is to keep its features and processes as simple as possible, yet highly effective.
Pre-existing email marketing software like MailChimp and Infusionsoft used to be the choice of well-established bloggers and businesses. These had their limitations though, especially in the area of email marketing automation.
Infusionsoft, for instance, was quite complicated and difficult for the average content creator to learn. ConvertKit, however, came in with a fierce tagline that reads: 'The power of Infusionsoft, but easier to use than MailChimp.'

Apart from its obvious simplicity and ease of use, ConvertKit employs the use of a tag-based system, houses beautiful customizable email templates and integrations. It possesses several other features that will work well for you if you are looking for an absolutely smooth and stress-free Email Service Provider.
Read ConvertKit Review See ConvertKit Pricing

Short History
ConvertKit is an Email Service Provider, created specifically for content creators of all kinds. The company was begun by Nathan Barry in 2013. The idea came up after Nathan successfully built iOS apps for himself and sold two e-books on the subject of web design. He decided to build an email marketing tool specifically for authors and bloggers like him who engaged in the sales of digital products.
The platforms first customers came from content marketing which Nathan had done by writing about The Web App Challenge. The Web App Challenge was a series of blog posts which he did as he built ConvertKit as a SaaS app.
ConvertKit is relatively new in the industry but has, over the years, being able to distinguish itself from its rivals. Having used MailChimp and Infusionsoft for a couple of years as a blogger, Nathan picked out their strengths and weaknesses. These, he used, to build his own software.
The team at ConvertKit is currently spread around the globe in 25 cities but all thirty-four of them have one purpose. Their aim is to create a simple and much more effective email marketing platform for professional bloggers. The company's current headquarters is in Idaho, United States.
What is it known for?
Because of how new ConvertKit is to the email marketing scene, it has been able to build on the weaknesses of others. This has served to enhance the platform's uniqueness. Hence, it is put to use by several content creators for the following:
Text-Based Emails

List-Based Pricing

One-Off Broadcasts

Sequence Creation
Text-Based Emails
For most bloggers, fancy templates usually are not a high priority. Many other Email Service Providers require users to select a template for each new email. This is time-consuming and sometimes, unnecessary. ConvertKit lets you send text-based emails alone, with no need for graphics templates. If you absolutely want an email design or customization though, there is another option. Using knowledge of HTML and CSS, you can code your own template.
What this text-based email structure means is that you can focus on the content of your email, rather than design. Design tends to take time and is tasking for people who literally just want to get their words out. It also helps you get rid of spam filters. ConvertKit's text-based email is as simple as it gets.
List-Based Pricing
ConvertKit offers you list-based plans. This means that what you pay for services depends on the size of your subscriber list. Email marketers with less than fifty-thousand (50,000) subscribers are allowed to send unlimited messages irrespective of their plans. Also, the starting plan is for businesses with up to thirty thousand (30,000) subscribers. This is a transparent pricing plan that is greatly appreciated by users of ConvertKit.
One-Off Broadcasts
A broadcast email is one single email which is sent to several people or multiple email addresses at the same time. It is a great way to announce special offers to customers, product launches or time-bound promos, discounts and news.
ConvertKit offers a broadcast function to its users. This email can be scheduled and sent automatically. You can also integrate your RSS feed to send your weekly blog posts as broadcasts to your subscribers.
Sequence Creation
In ConvertKit, sequences are where you create a series of emails that are sent to your subscribers at a pre-defined schedule. These emails are called auto-responders. Sequence creation is key in drafting an email course where emails need to be sent in a particular order.

Main Features
Because of its unique target audience, ConvertKit has quite outstanding features. Some of them are:
Subscriber Tagging and Segmentation

Easy Marketing Automation

Integrations

Simple Reports and Statistics
Subscriber Tagging
ConvertKit was designed to run on a tag-based system. It is a very proficient way of managing subscribers and running automation. What this tag-based system does for you is that it applies tags to your subscribers, based on how they react to your emails. For instance, using the 'merge tags' option, you can create unique emails. One of these unique emails will be displayed according to the tags that apply to each subscriber.
Easy Marketing Automation
Email Marketing Automation is the way to go in Email Marketing today. There are more people to be reached now via email. Thus, crude email marketing methods just will not cut it.
ConvertKit has a ridiculously easy trigger and action system. It is fast, compared to other platforms. You can track, measure and automate your email marketing campaigns. It also helps you to visualize your email marketing process, see your customers' journeys and tailor your content to it.
Integrations
ConvertKit integrates with many popular third-party applications, including LeadPages, ClickFunnels, SamCart, and Shopify. The list of pre-configured integrations on the platform is available on their website. It includes categories such as e-commerce, lead capture, webinar services, membership, and courses, etc. The platform has a good number of integrations for one so young, though not as many as others before it. However, several other integrations can be added through Zapier.
Simple Reports and Statistics
ConvertKit offers tools for analytics and tracking of your email marketing campaigns. Here, you get to see email opens, bounces, clicks, visitors, subscribers and conversion rates for each campaign. All these are available in the simplest dashboard ever. You can also track website statistics to see which signup methods are giving the most desired results.

ConvertKit Screenshots

ConvertKit Pricing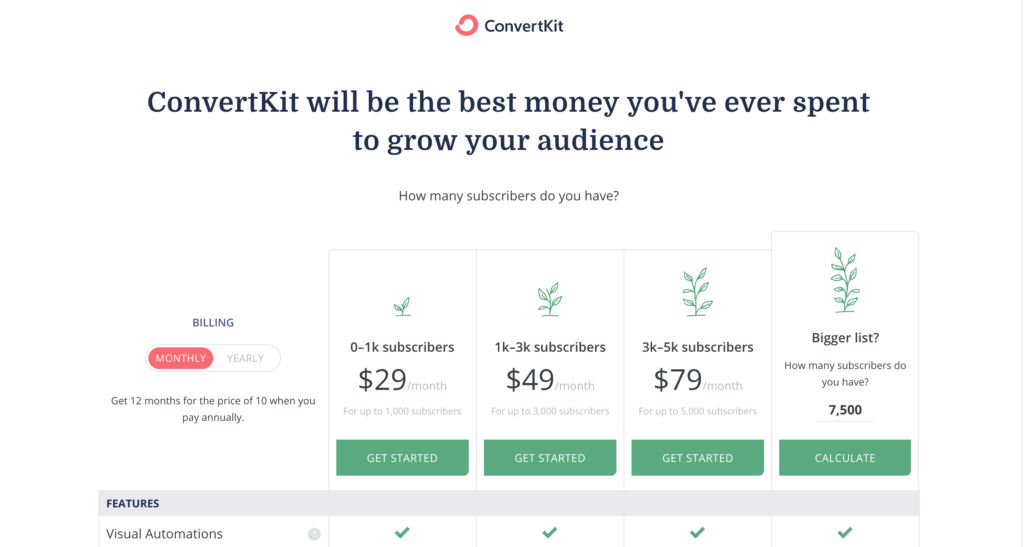 Starting price is $24.00/month (Paid annually for up to 1,000 subscribers)  See details.
14 day trial. No credit card required.
No Free plan.
Price based on the number of subscribers.

Information
Looking for more information on Convertkit? Check out these links: