Email marketing done right is an excellent way to boost your business and augment sales. If you are searching for software to use for your business, you've probably heard about ActiveCampaign and GetResponse. However, the process of comparing GetResponse vs ActiveCampaign is not always easy.
There is a reason for this. Both platforms are amongst the top-rated email marketing software with innovative features. Yet, with thorough scrutiny on the two software, you will be able to out the differences so you can make an informed choice of which one to go for.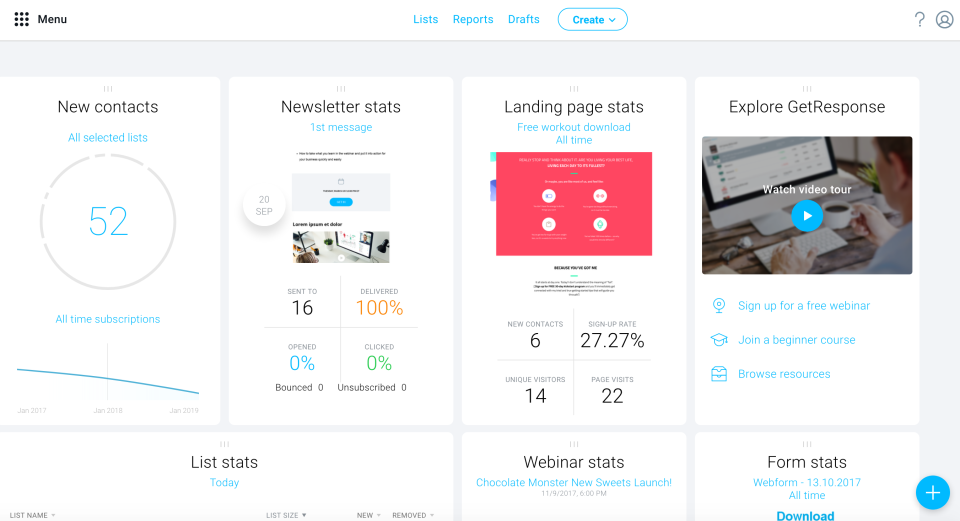 In brief, whilst both software offer email marketing and CRM features, only GetResponse allows you to build landing pages. This is not to say that ActiveCampaign loses its credibility, because this software doesn't offer just any regular customer relationship management (CRM) and email marketing features.
To get a feel of how it is to use this two software, go through the detailed comparison of the GetResponse vs ActiveCampaign below. And in the end, you will be an expert on the two platforms.

Ease Of Use & Editor
As much as technology is the pinnacle of e-business revolution, not all business owners or team members are considered tech savvies. Thus, you want your email marketing platform to be easy to use and navigate. And with the ever-changing and fast-paced world, you don't want to spend too much time on tedious software.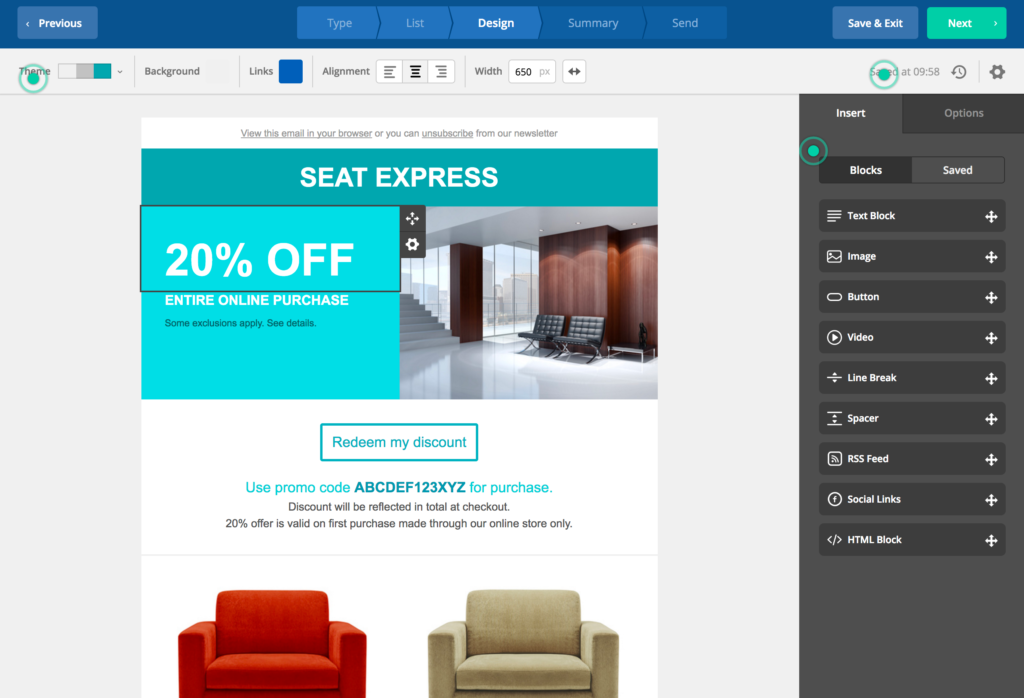 Both software are exemplary when it comes to ease of use and editing. Their interfaces are business-like and friendly whilst the features are intuitive; making everything straightforward. When you enter both software you will be directed to the dashboard, where you can run all your activities.
The dashboard designs are also very simple and basic to make it easy to identify your features such as automation, the editor, and form building. Whilst the features on the dashboards are easy to identify and use, it is worth knowing what features each platform offers to enjoy and utilize them to their full extent.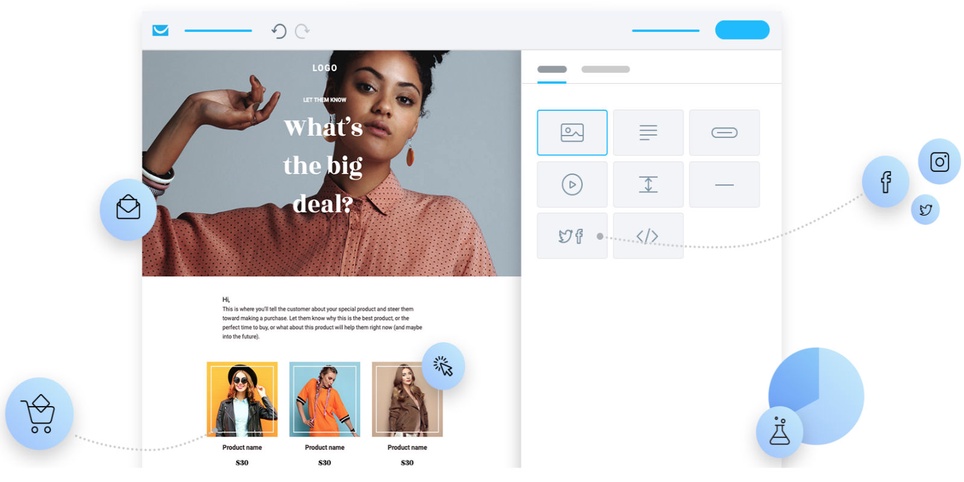 For example, ActiveCampaign doesn't allow you to build landing pages. However, with GetResponse, you can do so. Additionally, GetResponse allows you to sell and take payments whilst you can only do this with ActiveCampaign through a third-party app.
Winner: Both ActiveCampaign and GetResponse are winners when it comes to ease of use and editing. Their dashboards are simple and easy to navigate and their features are quite intuitive.
Design and Flexibility
Leading from the ease of use, the design and flexibility of the software must also be on point. You want your email marketing platform to be flexible and convenient to use. Sometimes, choosing software based on its design depends on the level of functionality you are looking for.
You may come across a software with a large number of pre-designed templates to choose from. This makes your life easier because you don't have to build them from scratch. Others even allow you to make minor changes to the pre-designed templates and save them as your default templates.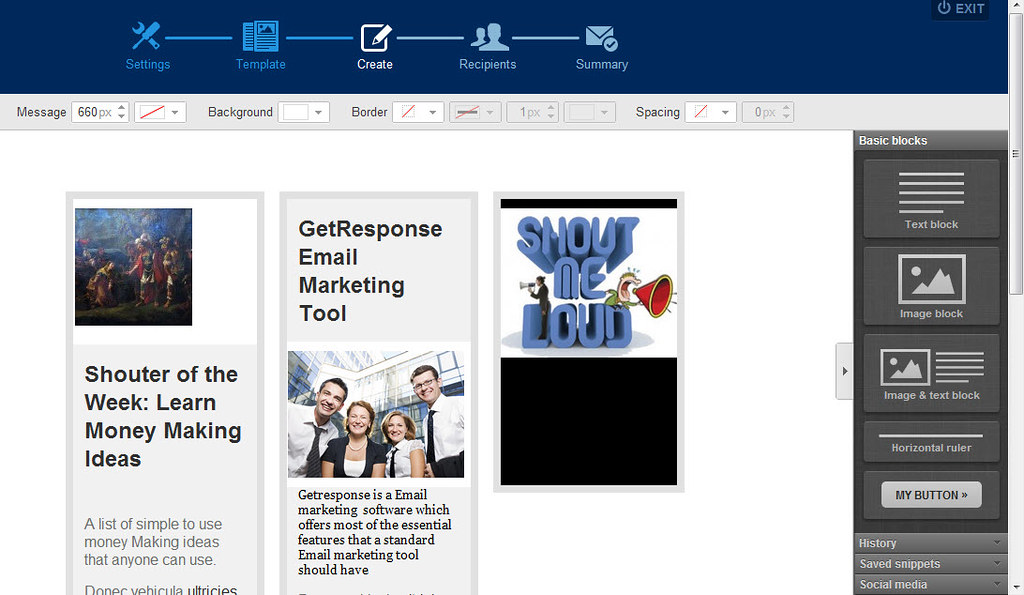 Other software on the other end allow you to build the templates from scratch; offering you a wide range of editing options for a customized finish. This is especially useful for people who want to make a customized template for their business from scratch. ActiveCampaign for example offers up to 30 fully designed email templates.
The platform also offers user friendly features that allow you to build your own templates. GetResponse on the other end comes with 500+ professionally designed email templates to choose from. Although it also allows you to build your own templates, it doesn't offer a wide range of building features.
Winner: GetResponse takes the lead with 500+ pre-designed email templates. Although it doesn't have a wide option of template building features, the 500+ pre-designed templates are more likely to offer an option that appeals to your needs.
Email Marketing Features
ActiveCampaign and GetResponse are also packed with numerous email marketing features. Active Campaign, for example, is packed with newsletters, autoresponders, automated emails, segment specific sends, perfectly timed emails, split testing, lead scoring, and easy integrations.
In addition to the features outlined for ActiveCampaign, GetResponse also has automated blog digests. Thus, you can say that they offer almost similar features for email marketing. Additionally, both software also offer CRM features. However, CRM features for GetResponse tend to be quite limited compared to those of ActiveCampaign.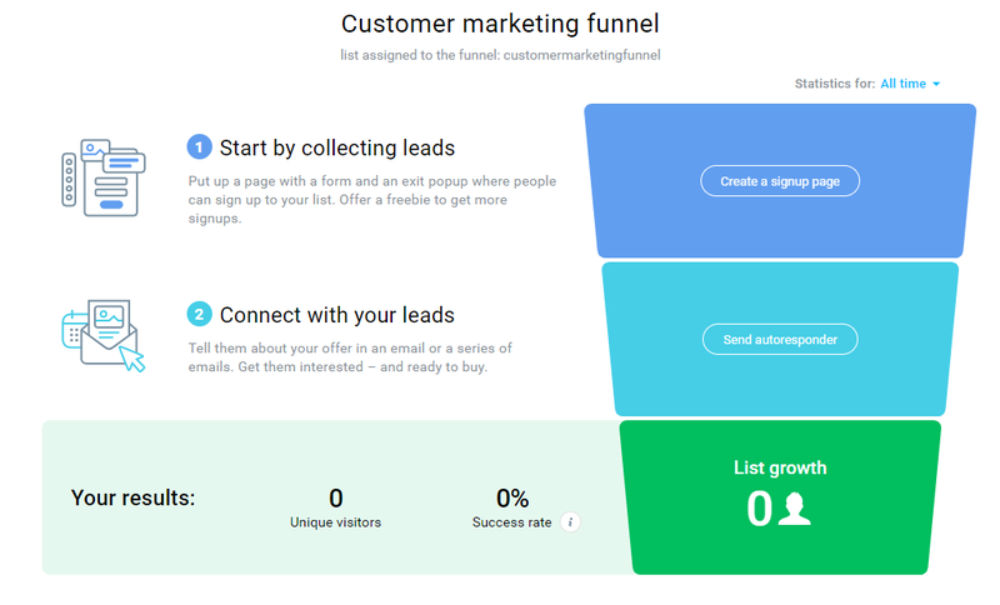 Yet, their features don't end there. ActiveCampaign for example also allows and connects you to SMS marketing. GetResponse on the other end is equipped to let you build landing pages. To complement your email marketing features; you can also build funnels thanks to the software's auto funnel feature.
The auto funnel also features lead magnets that can attract your target audience. You don't always have to use the auto funnel; you can also build your own pages using the landing page feature. The landing page features boasts up to 180 different page creation templates.
Winner: GetResponse is the winner. Not only does it have similar email marketing features with ActiveCampaign but it also boasts value adding auto funnel and landing pages features.
Registration Forms
Similar to marketing features, form building for ActiveCampaign and GetResponse are nearly similar. Both have a somewhat limited selection of features, however, Get response bears more of this limitation when compared to ActiveCampaign. Yet, GetResponse is gifted with the ability to build landing pages and auto funnel building.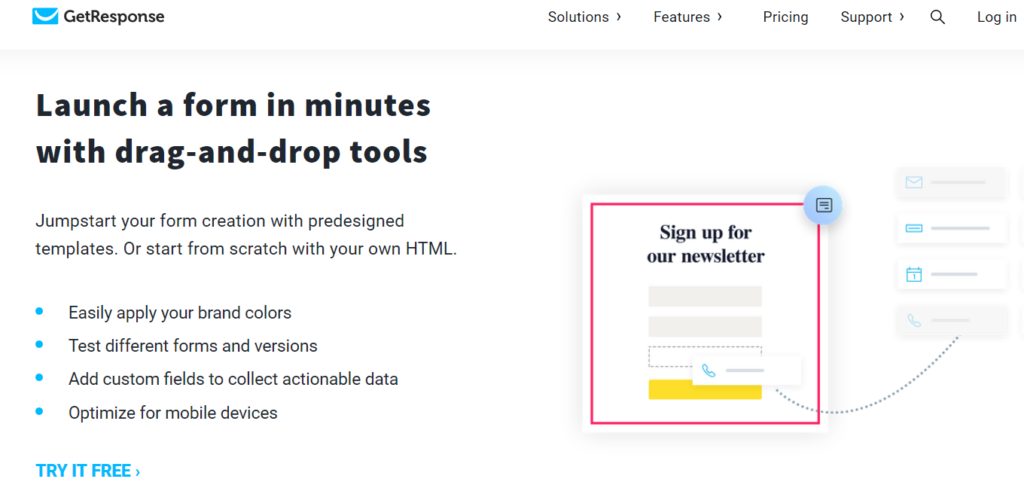 ActiveCampaign on the other end allows you to create detailed forms. ActiveCampaign doesn't allow you to build landing pages. Yet, if it's a feature you really need, you can always access it from third-party platforms. Still, with both platforms, activity is quite limited. You are given limited access to data collection and analysis for your site on both ActiveCamapign and Getresponse.
Winner: GetResponse takes the lead. Whilst it has limited form building features, it offers you added value with the ability to build landing pages and funnels.

Spam & Design Testing
What's the point of dedicating so much time to your email marketing products only to have them bounce off your audiences' emails? In other words, you don't want to spend too much time on your emails only to have them spammed because spammed emails supersede your purpose.
Therefore, a good email marketing platform should offer you spam and design testing to ensure the standards and quality of your emails are on point. ActiveCampaign features an innovative inbuilt feature known as SpamAssassin. SpamAssassin automatically conducts spam testing on your emails before they are sent out.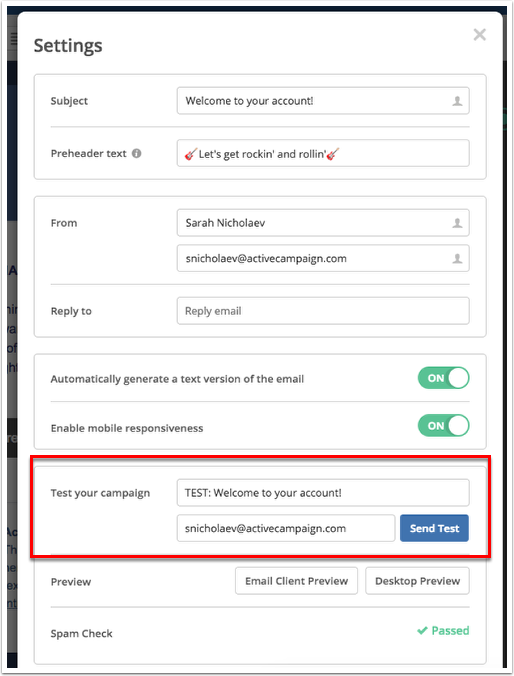 So even if you forget about the part, SpamAssassin comes to the rescue. Premium ActiveCampaign plans even feature more sophisticated designs that test how your email will look on a client's account, for example; their Gmail account. GetResponse on the other end doesn't feature an inbuilt testing tool.
So if you want to conduct spam and design tests with GetResponse, you have to invest in a third-party tool. For example, you can use the GlockApps testing tool with any email service provider or emailing software to test the inbox delivery and spam score of your email campaign before you send it using the GetResponse platform.
Winner: ActiveCampaign is the winner because it boasts an automatic tool. This makes the job simplified and you are guaranteed a tool is always there to check your work.
Reporting
When it comes to reporting both platforms do a splendid job. Both ActiveCampaign and GetResponse are data-based. They offer both qualitative and quantitative data. Their reporting details inquiries such as how many times were your emails opened and clicked through? What are the peak times and days of the email opening? How many people engaged in clicking the link? And at what day or time does that occur the most?
You can also see the rate of opens and CRT on emails as campaigns and in automation workflows. You can easily access the reports on their tabs on the dashboards. Although they boast similar reporting features and almost identical data features in their reporting, ActiveCampaign and GetResponse differ when it comes to design and visuals.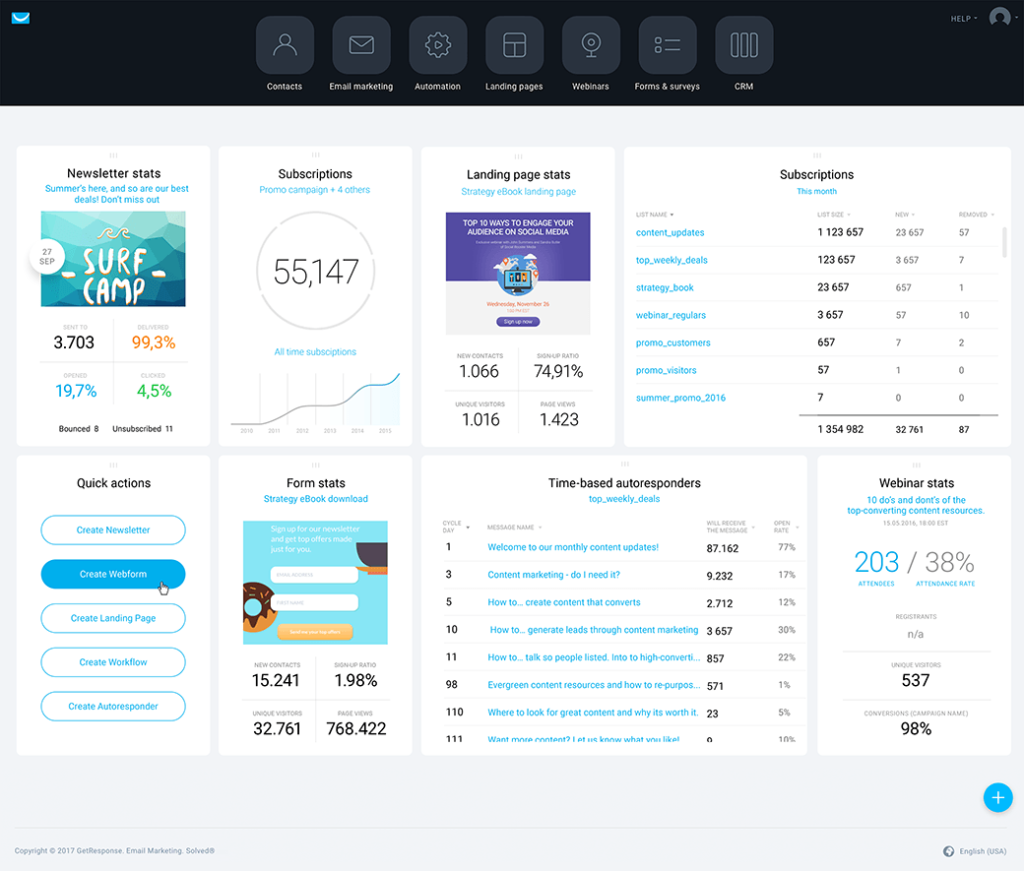 ActiveCampaign still remains to be simple, basic, and bland business-like. GetResponse on the other has more attractive visuals and designs that help to display the data better. One is more drawn to go through GetResponse data for longer and comprehend them much easier compared to ActiveCampaign.
Winner: Whilst they bear similar features for reporting, GetResponse takes the lead as it bears better visuals.
Deliverability
When I tested both platforms for deliverability and spam score, they all did perfectly. I used the same email testing tool for both so I could get unbiased answers. ActiveCampaign emerged with 92% deliverability whilst GetResponse only had 78.5% deliverability rate.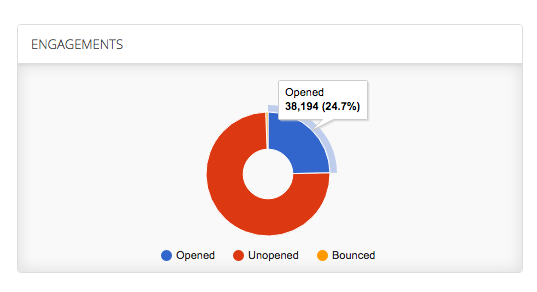 As always, ActiveCampaign maintains its high deliverability rate amongst most platforms. Yet, GetResponse only delivers 78.5% of the time. However, other factors also contribute to email deliverability.
Whilst the test tells you a lot about the platform, you must also consider how you build your list and even your business type. These may also contribute to increasing or decreasing deliverability rates.
Winner: ActiveCampaign is an obvious winner thanks to its higher deliverability rate.
Integrations & Extras (Other Features)
The more integrations you have on your platforms, the easier your work becomes. Imagine having integrations with key apps such as analytics, monetary services, lead generations, and even social media. Both ActiveCampaign and GetResponse bring you this benefit.
With ActiveCampaign, you can even connect to tools such as Google calendars and have plug-ins for other app extensions. ActiveCampaign currently integrates with up to 200 different apps. These apps boast different themes and use such as social media like Facebook or other business-oriented apps that offer services such as accounting and CMS. You will also find 4 native ActiveCampaign apps.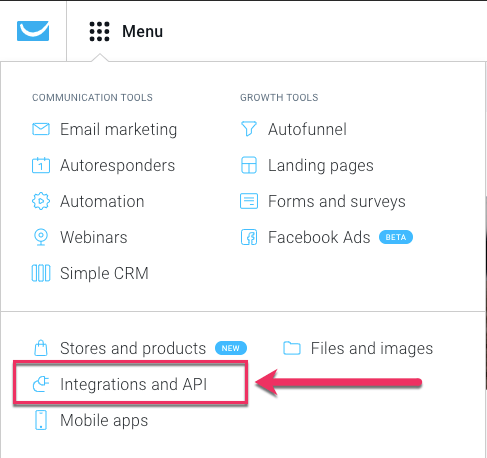 GetResponse also allows for integration. However, it only offers integration with up to 80 cloud applications. With GetResponse, you can also synchronize your contact list and automate workflows across different apps. However, GetResponse also boasts built-in webinar features for added functionality.
Winner:   Although GetResponse features an impressive built-in webinar feature, ActiveCampaign is the winner because it offers connections to more useful apps.
Support
ActiveCampaign and GetResponse both offer impressive customer support. Both platforms offer four key support which includes live chat, free onboarding, help center, and email support. Whilst GetResponse live chat support can be accessed daily, it is not 24/7. ActiveCampaign on the other end offers 24/7 live chat support.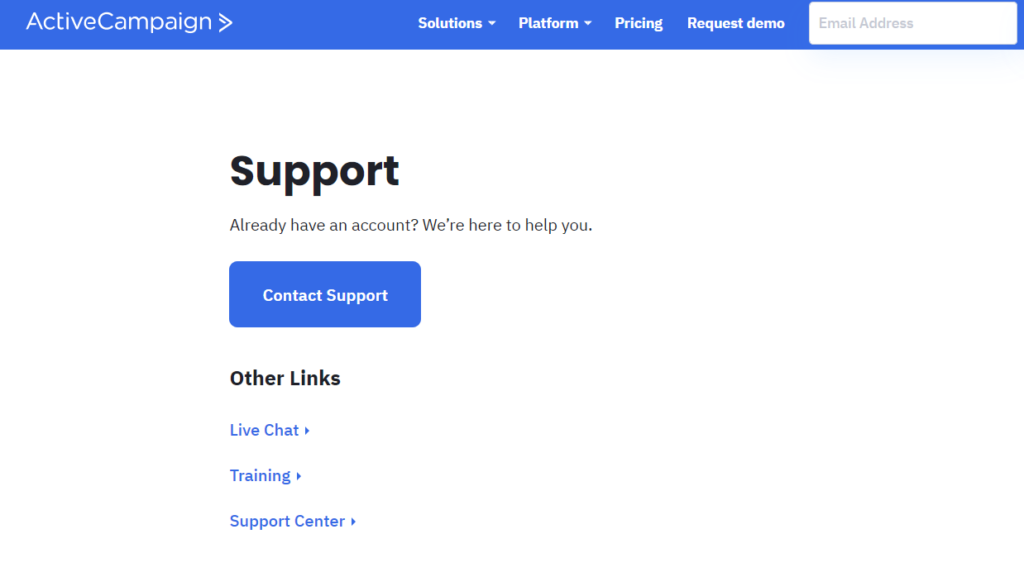 So even if your business hour brackets don't fall under U.S. Eastern Time, you are still guaranteed on spot support with ActiveCamapign. ActiveCampaign also offers customized training depending on your needs to ensure you are well acquainted with the software.
Winner: ActiveCampaign emerges as the winner thanks to its wells rounded customer support.
Price
Each platform is available across different price bands, depending on the plan and features you want. The price is broken down into the number of contacts and the plans. For example, in general, ActiveCampaign has a lite plan, a plus plan, a professional plan, and an enterprise plan. However, the cost you pay for each plan if you opt for 500 contacts is not the same price you would pay for the same plan if you opt for 5000 contacts.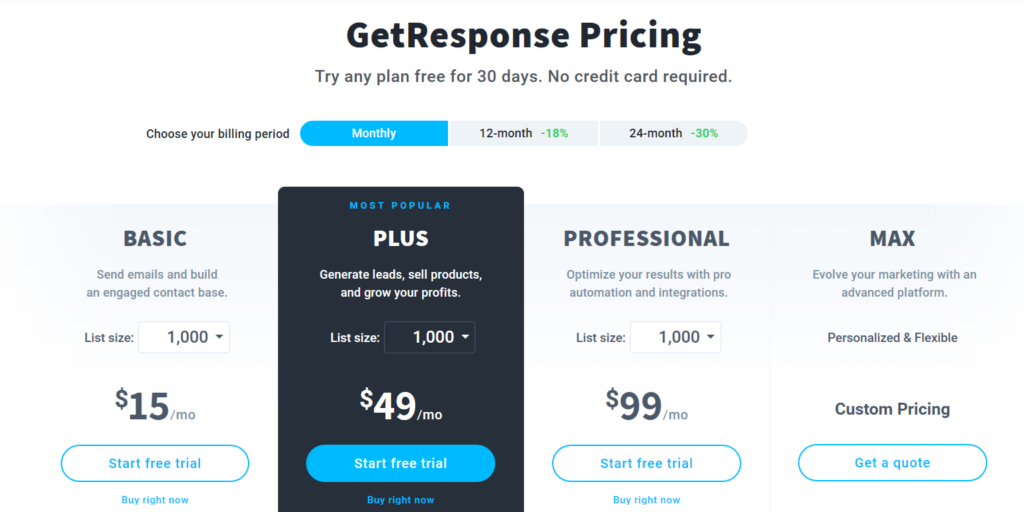 I've outlined the price for each platform's plan based on 500 contacts for ActiveCampaign and 1000 contacts for GetResponse.
ActiveCampaign Per month
Lite
Plus
Professional
Enterprise
$9
$49

$129

$229

GetResponse Per month
Lite
Plus
Professional
Enterprise
$15

$49

$99

$1,199

At first, it appears as though, they share almost similar prices. However, you must remember that the prices for ActiveCampaign cover 500 contacts whilst GetResponse covers 1000 contacts. It ultimately falls down to the features you are looking for depending on the platform you choose.
In addition to the low price bands, ActiveCampaign and GetResponse also offer free trials to see if they work for you or not. ActiveCampaign offers a 14-day free trial. GetResponse on the other end offers a 30-day free trial.
Winner: The platforms are a tie when it comes to pricing. Although the prices have some variations, we can't quantify the benefits because you also have to look at the feature each offers.
Feature Comparison Table – GetResponse vs ActiveCampaign
ActiveCampaign slightly beats GetResponse when it comes to overall performance. This is not to say that the latter shouldn't be the option you should go for. The table below helps to outline each platform's strengths and weaknesses according to the feature. So you can easily choose which platform to go for based on the features that you are looking for.
| | | |
| --- | --- | --- |
| | ActiveCampaign | GetResponse |
| Ease of use and editor | 4.8 | 4.8 |
| Design and flexibility | 4.6 | 4.8 |
| Email marketing features | 4.8 | 4.95 |
| Registration forms | 4.2 | 4.4 |
| Email and spam testing | 4.5 | 3.9 |
| Reporting | 4.0 | 4.2 |
| Deliverability | 4.8 | 3.5 |
| Integration and other features | 4.8 | 4.5 |
| Support | 4.9 | 4.7 |
| Price | 4.5 | 4.5 |
| Overall Rating | 4.56 | 4.425 |
GetResponse Vs ActiveCampaign – Which Is Better?
When you look at the GetResponse vs ActiveCampaign comparison above, both software emerge as highly functional and useful to your business. However, this is not the summation you want. You want to find out which one amongst GetResponse vs ActiveCampaign is the best for your business.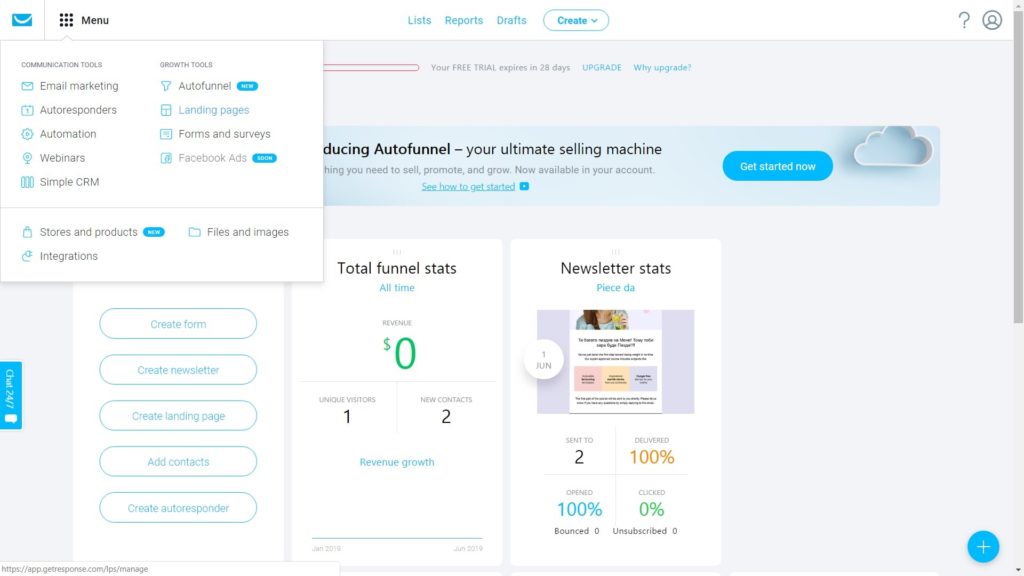 So let's breakdown what we have learned so far;
ActiveCampaign works great as a supplemental email collecting tool. If you have a blog or other separate messaging or emailing tools, ActiveCampaign can complement them. ActiveCampaign is also not only equipped with email marketing tools but also automation and CRM tools.
You can get these features at the lowest plan. However, if you want more advancement in these features, then, you should invest in a higher plan. Unlike GetResponse, ActiveCampaign also has an SMS marketing feature. You can, however, connect GetResponse with this feature through a third party app such as Zapier.
GetResponse on the other end is packed with impressive landing page and funnel building features. ActiveCampaign doesn't allow you to build landing pages or funnels. Additionally, GetResponse also features a built-in webinar feature.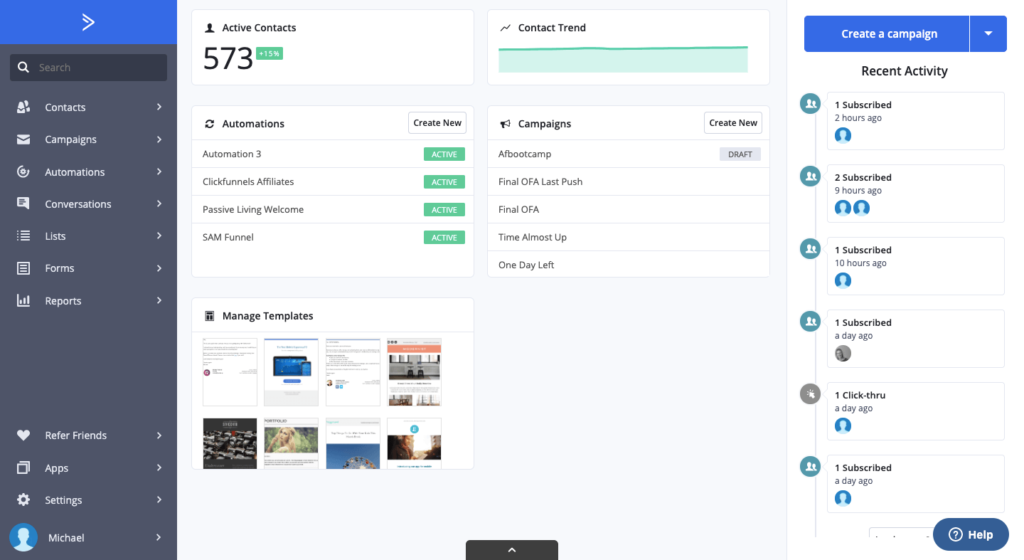 So if you are especially looking for these features, then GetResponse is the platform to go for. Keep in mind that when it comes to integrations, GetResponse is limited compared to ActiveCampaign.
ActiveCampaign integrates with up to 300 different apps whilst GetResponse only integrates with 80. Whilst both services offer courses on how to fully utilize them, GetResponse integrates an interactive 90-day list building course to really get you established.
And if you are still struggling to pick a choice even with the differences outlined above, then, what you need is to opt for their free trials. Remember ActiveCampaign offers a 14-day free trial whilst GetResponse offers a 30-day free trial. And the best part about each of them is that you don't even have to provide your credit card information.