All you need to know about ActiveCampaign
For a long time before ActiveCampaign came into the sphere of Email Service Providers, marketing automation was not so common. It was not because there were no platforms offering this feature. Products like InfusionSoft and Ontraport were in existence, but they were very expensive.
For this reason, many small and medium businesses, and entrepreneurs could not afford the service. Automation is important because it increases conversions, customer engagement and generally makes work easier for business owners. ActiveCampaign came on the scene in 2003 and has since become the choice Email Service Provider for many entrepreneurs. This is because their services are very affordable and the platform has several perks.
ActiveCampaign is an intelligence-driven, integrated marketing and Customer Relationship Management (CRM) platform. It enables its users to create highly effective automated marketing and sales processes that leave customers satisfied. It is a user-friendly platform that is useful in the effortless creation of engaging and visually appealing emails. It offers users a wide suite of tools that will help businesses to attract, acquire and engage customers effectively.
ActiveCampaign does more than the average, traditional Email Service Provider. Its email and messaging features are tied to a simple marketing automation platform with inbuilt CRM and sales automation functions. This has given it an edge over others in the industry. It integrates well with several third-party applications and provides analytics as well.
Also, Active Campaign uses both the tag-based system of subscriber grouping and the list-based system. It is truly a robust Email Service Provider that every entrepreneur and marketer should consider.
See ActiveCampaign Pricing

Short History
ActiveCampaign is an Email Service Provider, focused really on automation. The company was begun by Jason VandeBoom in 2003. When the company began, their aim was to provide a solution for entrepreneurs who needed to maintain a relationship with their contacts. Business owners were looking for affordable and effective, yet simple, solutions but there were hardly any.
Over the years, some drastic changes have been made to the company itself. ActiveCampaign has transformed from being the traditional software company to a SaaS (Software as a Service). They set a goal to reduce the number of emails marketers had to send without impeding great results from coming through. This involved the creation of marketing automation and automated sales CRM features, needed for campaigns that really work.
Today, they are a fast-growing tech company that are continually working to meet the needs of their customers. Their current headquarters is in Chicago, Illinois, United States.
What is it Known for?
Because of how new ActiveCampaign is to the email marketing scene, it has been able to build on the weaknesses of others. This has served to enhance the platform's uniqueness. Hence, it is especially known for its users for excellence in the following:
Email Marketing

CRM and Sales Automation

Marketing Automation
Email Marketing
Of course, for most users of ActiveCampaign, what drew them to the platform was its email marketing abilities. It is a convenient and efficient tool that can be used by marketers for their email marketing needs. With features that allow you duplicate campaigns, create several lists, customize email templates and so on, ActiveCampaign has got you.
It also gives you lots of content options for email building such as images, videos, buttons, etc. Email Marketing on ActiveCampaign is really just great, compared to several other Email Service Providers.
CRM and Sales Automation
This is probably ActiveCampaign's greatest strength. It is widely used by business owners and marketers who need an integrated sales and marketing solution. ActiveCampaign has an inbuilt CRM that links easily to all your data from email marketing. It is flexible and allows you to create customized sales processes too.
Marketing Automation
The bane of any Email Service Provider today would be not having Marketing Automation capabilities. The reason for this is that entrepreneurs and marketers are constantly looking for ways to make their work easier.
ActiveCampaign offers its users strong marketing automation features that are easy to use. It also has an automation marketplace. This is for those who do not want to go through the stress of creating automation from scratch. You can buy and sell custom automation in this marketplace and plug it right into your automation builder.

Target Audience
Usually, the user experience is what determines how convenient anyone finds an Email Service Provider for use. Features are great, but if these features are hard to access, it becomes a problem. From ActiveCampaign's design and features, one can see that their target audience majorly comprises of small business, start-ups and professional bloggers.
This set of people hardly ever work with teams that may be required to run Email Marketing Software. They have more of a do-it-yourself approach to it and ActiveCampaign is a good platform for that.
Main Features
ActiveCampaign has quite outstanding features that make it very suitable for the group of people that make up its target audience. Some of them are
Intuitive User Interface
List and Tag-based Subscriber Grouping
Integrations
Easy Marketing Automation
Intuitive User Interface
Because of its immense automation capabilities, one would think that ActiveCampaign would be quite complicated and hard to understand. However, the one thing that will get you glued to this Email Service Provider is its user-friendly interface. It is so easy to understand for first-time users and promotes adaptability too.
Tabs such as 'Create Automation', 'Create a Form', 'Create A Deal', 'Contacts', 'Campaigns', etc. make navigation easier. It basically has all that you need to get started at a glance.
List and Tag-based Subscriber Grouping
There are Email Service Providers that offer list-based subscriber management. There are others who offer tag-based subscriber management. ActiveCampaign, however, integrates both features in one platform. What this means for you as a user is that you get to choose how you want to go about your subscriber management. It could be by using multiple lists, single lists or multiple tags.
That way, you respond to your subscribers' needs based on their history of interest and use automation to simplify it.
Integrations
ActiveCampaign has a good number of integrations in its library. This includes the regularly used ones like WordPress and Shopify. Its integrations are up to a hundred and fifty (150), including Zapier. With Zapier, you can get access to several other integrations if you need more than the platform offers.
Easy Marketing Automation
ActiveCampaign has a very visual and user-friendly automation builder that can be used to create workflows and automation sequences. Some of the applications of its marketing automation are drag-and-drop email design, lead capture forms, website tracking and so on. It also offers sales force automation features including pipeline management and lead scoring.

ActiveCampaign Screenshots

ActiveCampaign Pricing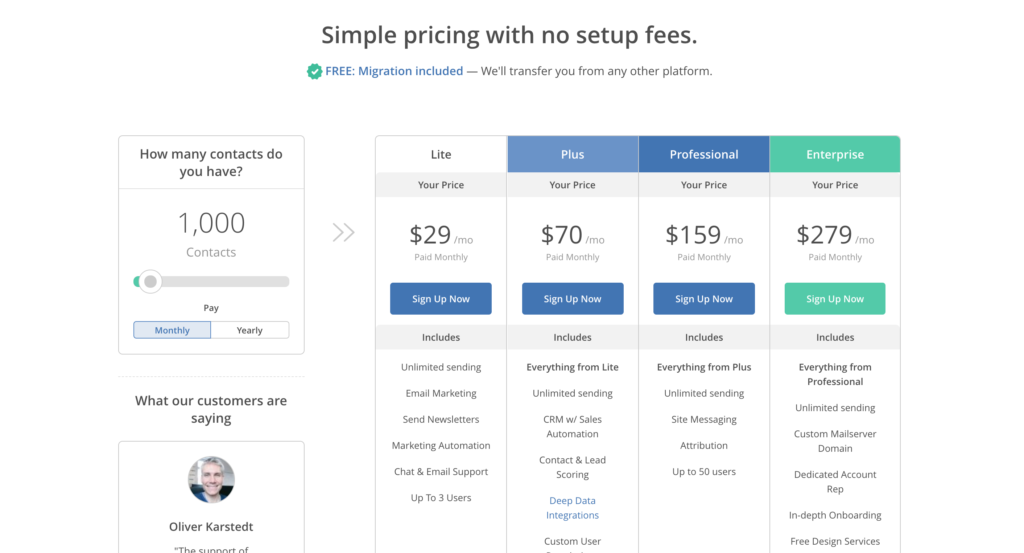 Starting price is $9.00/month (Paid annually for up to 500 subscribers)  See details.
14 day trial. No credit card required.
No Free plan.
Price based on the number of subscribers.

Information
Looking for more information on ActiveCampaign. Check out these links: