Do you find yourself working more than your email service provider trying to make sure all your emails are delivered to the right person at the right time?
If this is you, stop what you are doing immediately. Take a ride with me as I will be revealing to you one of the rare breeds of marketing software. A software destined to propel your email marketing campaigns to greater heights.
In this post, we'll provide an all-encompassing rundown of 🥁ActiveCampaign. I will include:
Why ActiveCampaign is a great choice for small businesses
Why it is important for your marketing campaigns
The pros and cons of using ActiveCampaign
Beginners guide to using ActiveCampaign
As well as mentioning its top 3 rivals so that you can choose the best one that fits your business needs and budget.
This is the ActiveCampaign ultimate guide and review for small businesses. We are going all in.
---
Table of Content:
The complete guide to ActiveCampaign
Review
Activecampaign Pricing and Plans
Features
Alternatives
Guide

What is ActiveCampaign?
ActiveCampaign is a cloud based software company that develops to name a few:
super-advanced email marketing tools
marketing automation tools
Customer Relationship Management (or CRM) tools
last but not least Sales Automation tools
ActiveCampaign was born-and-bred in Chicago, Illinois, USA in 2003 by non-other than Jason VandeBoom. Starting off as a Consultancy Firm it then transformed into an on-site software provider.
ActiveCampaign's target market is small businesses, so if you are a small business you are in luck. Read on.
February 2011 came with many blessings and improvements for VandeBoom's company as it now transitioned to a software-as-a-service or SAAS. This meant more work, and more employees to be brought in.
Many small businesses started adopting the magnificent tools created by ActiveCampaign. This meant growth, and that growth was coming fast!
In 2016, VandeBoom did what he hated most, which was to raise capital to fund the rapidly expanding business. He was a traditional business dude who just wanted to bootstrap his way to freedom, as quoted in Inc. Magazine.
The incoming capital got them to $90 million dollars in revenue in just 6 months, which was a crazy amount for a company competing with old powerhouses like Mailchimp.
Fast forward 2020, they are one of the most respected companies in the email marketing hemisphere due to their sophisticated tools.
Every small, and now also mid-sized businesses are flocking to their door steps to be dished with state of the art, over simplistic tools. They are really serving their intended market.
With an employee count of close to 1179 as of September 2020, they are sure to give you that human touch whenever you want to communicate with them. They are just so reliable.
In 2019 and 2020 by Inc. Magazine and BuiltinChicago nominated them in the top 20 best places to work, which is a great achievement.
Who is Constant Contact For?
ActiveCampaign is used by well over 100 000 small and mid-sized businesses in 171 countries. Companies that have gone out and reported themselves as using ActiveCampaign are:
Chico Rei
Fundamenta
identi
Publing
BILLSHARK
And Scale My Empire
These are well-known rapidly growing companies. I personally even think their growth is due to the fact that they are using ActiveCampaign! Who knows?

ActiveCampaign features
1. Email marketing
which ActiveCampaign specializes on, is said to be the lifeblood of any business operating online.
The ActiveCampaign Email Marketing feature, helps you:
Personalize your email campaigns to ensure that open rates are high
Automate your marketing campaigns so that you concentrate on the growing of your business
Track behaviour of prospects whilst they are reading your email. This is to see what they are clicking and not clicking on.
ActiveCampaign comes with prebuilt email marketing templates that help you do-it-yourself. Their simplified advanced workflows make it easy for any marketer to understand. Their drag and drop features make their platform a walk in the park.
2. Marketing automation
Marketing automation is a procedure by which technology takes over repetitive marketing duties that would otherwise be done by a human.
It enables you to automatically send targeted marketing messages via social media, SMS, your website or email.
ActiveCampaign is a well-respected marketing automation software. It uses machine learning and advanced algorithms that make them a cut above the rest.
3. Customer Relationship Management (CRM)
A CRM is a way in which a business technologically manages its relationships and interactions with its customers and prospects.
CRM software is very expensive. ActiveCampaign saw this gap in the market and capitalized on it. ActiveCampaign now offers CRM capabilities specifically for small businesses at the most affordable prices.
Your business basically needs a CRM to help you:
stores your files safely
target your audience
and strategize your entire sales cycle so you can get better results
4. Sales Automation
The fourth feature which ActiveCampaign offers is Sales Automation.
Sales automation is simply the process of using technology to automate sales.
Sales automation relies on the CRM and Artificial Intelligence to perform its duties to the fullest.
5. Multi-Channel Communication
The fifth feature of ActiveCampaign is called Conversations. This is a multi-channel communications tool that you as a small business owner can use to communicate with your customers wherever you are. This tool offers:
Live Chat
A Conversation mobile app
etc.
This communication tool can help you get in contact with your customers wherever you are which is good for you and your business.

ActiveCampaign Pricing Model and Plans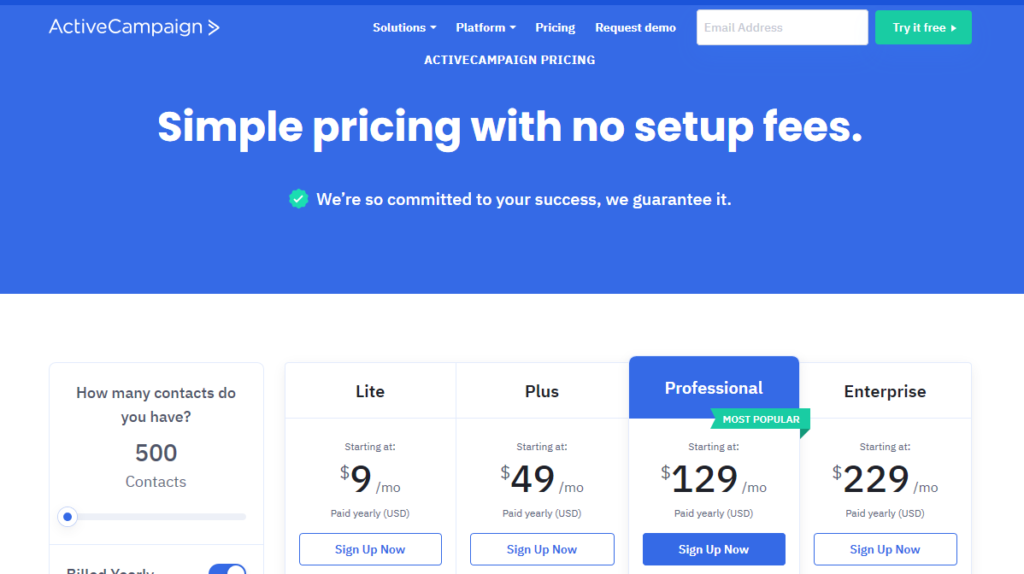 ActiveCampaign has four plans to choose from. They also offer a 14-day free trial so you can test out the waters.
The Lite Plan
The Lite Plan starts at a mere $9 a month paid yearly, which is a giveaway, looking at the features they offer like:
Unlimited sending
Email marketing
Sending great Newsletters
Amazing Subscription forms
Marketing Automation to remove the burden off your marketing team
Chat and reliable Email Support
You can add a Maximum of 3 Users
The Plus Plan
The Plus Plan starts at $49 per month paid yearly. This plan includes:
Everything from the Lite Plan
Facebook Custom Audiences
Landing Pages
SMS Mobile Marketing
CRM plus Sales Automation
Lead and contact scoring
Integrations with hundreds of apps
Dynamic content
Customer user permissions
And 25 Users Maximum
Professional Plan
The Professional Plan, which they say is the most popular starts from $129 per month and is paid yearly. This plan includes:
Everything that is included in the Plus Plan
Predictive Sending Capabilities with Machine Learning
Predictive Content Capabilities with machine Learning
Customer Attribution And path to purchase
Reporting on Conversion Attribution
Split Automation Capabilities
Site Messaging Capabilities
Consultation on In-Depth On-Boarding
Consultation on Automation Strategy
1-on-1 Training three times a month
And 80 users Maximum
Enterprise Plan
The Enterprise Plan starts at $229 per month which is paid annually. This plan includes but not limited to:
Everything that you saw in the Professional Plan
Beta (Custom Reporting)
A Custom Mail server Domain
A Custom Domain
An Account Representative
You get free design services
You get free social data
A fully fledged mobile support
Guaranteed uptime
And you can add as many users as you may like (this is for the big boys)
Conversations
Would you like to add "some extra cheese" with their new multi-channel communications feature called Conversations? Pop-out $9 per month on top of the plans we have provided above, Thank you.

ActiveCampaign Integrations
ActiveCampaign integration with WordPress
If you are using WordPress, you are in luck because ActiveCampaign seamlessly integrates with it. Those who don't know what WordPress is, it is web software that gives you the ability to create any website of your dreams.
ActiveCampaign lets you:
embed custom forms
create custom landing pages
add scripts to your site to get insights
use live chat
and more
The ActiveCampaign Plugin for WordPress.
ActiveCampaign Integration with Shopify
Selling on Shopify can be a kick in the ass at times. The user data they give you is not as pinpoint as many would like. The Shopify integration with ActiveCampaign has opened the eyes of many sellers.
Sellers are now able to track the behaviour and preferences of their buyers at any time. This helps in the segmenting and targeting of customers in their lists. The overall result of this conversion optimization will be more sales.
ActiveCampaign prides themselves as, "The 1st Customer Experience Automation application in the Shopify App Store." A very great achievement indeed.
The ActiveCampaign app on the Shopify App Store.

Pros and cons of using ActiveCampaign
Pros
Cons
-They have hundreds of 3rd party integrations which makes it easy to connect with software you have been using already e.g. Shopify and Zapier
– They are easy to use
– They are affordable
– They have great customer support, (one of the best in the world)
– Top class training for you and your staff
– It is simple to use. In fact anyone can use it, even your grade 7 kid can use it. How easier can it get than a drag and drop interface?

– The dashboard is too busy for us minimalist
– A very short free trial period
– No transactional email functionality
– Tracking can be a bit complicated
– Learning curve for beginners

ActiveCampaign Alternatives
Mailchimp shares the same target market as ActiveCampaign in Small businesses. They are an email marketing software that also offers marketing automation.
Pros of using ActiveCampaign over Mailchimp
The ActiveCampaign email deliverability is higher
It offers a hundred times more integrations
It offers more powerful features
Pros of using MailChimp over ActiveCampaign
Mailchimp has a free forever plan
The platform is more user friendly
Good for small and straight forward marketing campaigns
Hubspot is one of the most powerful marketing and sales automation tools in the market.
Pros of using ActiveCampaign over Hubspot
ActiveCampaign is way cheaper
Active campaign's platforms if made specifically for small businesses
It integrates with a hundred more apps than Hubspot
Pros of using Hubspot over ActiveCampaign
Hubspot is well known brand
Easier to use
Their CRM is more advanced
3. Our third and final ActiveCampaign alternative goes to Sendinblue
Sendinblue is a cloud-based marketing communications software that provides digital marketing tools.
Pros of using ActiveCampaign over Sendinblue
ActiveCampaign offers webinar training sessions
Good A/B testing automation sequences and campaigns
It is easy to build custom automated workflows
Pros of using Sendinblue over ActiveCampaign
You can send up to 9,000 emails per month for free
The email editor is easy to use, some users even claim there is almost no learning
Their price is hard to beat

The Beginner's Guide to using ActiveCampaign
Everybody is busy these days. We are all looking for tools that will lessen the burden of our business and life from us.
As I have promised you from the very beginning I will be delivering you from the burden of sales and marketing so you can take care of what matters most; which is growing your business.
You want to grow your business, don't you?……….Leave the sales and marketing to the beloved ActiveCampaign, NOW!
ActiveCampaign does a good job of welcoming and teaching newbies on how to use its magnificent platform. Either way I will give you a quick rundown of how to get started……..Let's go!
Create your account
Like any platform online, just go to the ActiveCampaign website, look to the top right corner, click signup, then abracadabra! You can now become a monk……just kidding☺☺☺
Make sure you fill out all the details, from the physical addresses, to the phone numbers to all the people who have the right to the account, to everything. Don't worry you can change everything later.
Website tracking
It is now time to ask your developer or site manager to add tracking to your website. This is key. I haven't broken this to you yet but here you go; ActiveCampaign software has the power to track the behaviour of your site visitors at any given time. This helps a lot because it gives you insights on how to improve your user experience (UX) and other stuff.
Create your lists
Before you get too excited about the platform, take a deep breath and start by creating a list. I guess you learned this from your old school email marketing platforms.
Did you?
If not, don't worry, it's the easiest thing you are going to do today.
Creating a list first helps you start off at a high, with a stellar game plan and focus on how you are going to tackle your very first super strategy.
Make sure you have these 2 basic lists when starting off:
The updates list- for sending your new content and latest stuff you are working on
The promo list- for promotions
The post sales list- for the removal or reduction of dissonance forces working on your clients
And any list that fits your business and industry needs
Develop a system of tagging
I can't stress on the importance of developing a system in which you are going to use whilst tagging.
You need to do all the work at the beginning to get the sweet fruits of an all-in-one marketing automation software.
You develop a tagging system so that you can easily find the segmented group you want to send your campaign to.
Make sure your structure is very precise and your tag descriptions are well detailed to avoid unnecessary delays to your campaigns.
Use the free automation templates
ActiveCampaign plans come with free automation templates made especially for you the beginner.
Test the waters with these. You have nothing to lose, plus you are still in the learning stage.
These prebuilt automations include:
The social media automation
The abandoned cart automation
The webinar automation
The re-engagement campaign automation
And more
Use them!!!
NB: If you happen to be a beginner, which I believe you are, make sure you get help from their support crew. They have over a thousand workers waiting to serve you.

ActiveCampaign FAQs
What is ActiveCampaign?
ActiveCampaign is a cloud based SAAS company that develops super advanced email marketing tools, marketing automation tools, CRM tools as well as Sales Automation tools.
How long is the ActiveCampaign free trial?
ActiveCampaign offers you a 14 days free trial which allows you to send up to 100 emails and have 100 contacts in your database.
Is ActiveCampaign a CRM?
ActiveCampaign is more than a CRM. It does offer a CRM along with email marketing, sales and marketing automation.
What is ActiveCampaign good for?
ActiveCampaign is well respected for its Email Marketing tool suites. Some email research even says it has the best email deliverability rates online.
Does ActiveCampaign have landing pages?
Yep. ActiveCampaign Pages is a brand new ActiveCampaign feature. With this, you can build customized, high-converting landing pages in a very short space of time.

ActiveCampaign Reviews
Trustpilot Reviews on ActiveCampaign
Trustpilot is one of, if not the most trusted review site on the internet.
I took a journey to go and fish for some reviews to see how ActiveCampaign is treating its users.
1. The very first review that caught my eye was a review from a gorgeous looking lady called Anna. She gave ActiveCampaign a 5 star and had these to say:
"I will always choose ActiveCampaign…
I will always choose ActiveCampaign because the tree-view of the automatons is the best!"
2. The second review that I managed to fish out was from a guy called Joseph. He also gave them a 5 star and had this to say:
"Well Designed System
ActiveCampaign is a well-designed system that makes projects a lot easier to complete. You always have total control of your information and the ability to organize things to fit your company."
3. The third and final fish I caught was a bit of a horse fish. The very first 4 star review of ActiveCampaign from a guy called Steven. Let's see what he had to say:
"I like all the features and tools…
I like all the features it has and how easy to use it can be. It's one of the most sophisticated tools we use and should help us build our business! It can get pricey with a high number of contacts though."
Now it is my turn to test out the platform and give "You," my loyal reader, an eagle's view of what to expect when you sign up.
---
ActiveCampaign Review: Our Opinion
I don't know if this is good or bad but my very first view of the platform was shocking!
These guys literally have everything on their dashboard. At first it might be overwhelming, but after a few days of clicking you will get used to it.
I tried out the email builder and was amazed with what I saw.
It was so damn easy to use. One thing I liked about the editor was that you can see the changes your team members made, which makes it good for collaborations.
I walked backwards towards the email templates and found that they are also good, but not as good as their competitors such as Hubspot.
I would give them a 4 star on the templates and hope they improve in the near future.
I sprinted to the Automations to try and set up my very first automation.
For us this needs a 5 star rating.
You can literally copy and paste automated sequences into your email service which is a plus for the less savvy marketers out there.
I took a quick glance at the Split Testing feature and found that you can split test everything!
From complete automations, to the titles, to the content. Everything I said!
After getting a 5 star experience from the split testing, I contacted the support team.
I told them I was having trouble using their visual workflow builder.
They replied within seconds with a link to a full tutorial on a step by step guide on how to use the builder.
Their website is basically a library full of all the information you need, be it video or text, you might not even need their help for anything.
All in all, my adventure with ActiveCampaign was worthwhile. I would give them a 4.7 out of 5.
ActiveCampaign was specifically made for small businesses.
If you happen to be a small business and want to escalate your marketing efforts, they are your best bet. Check them out.