All you need to know about Drip
Drip (sometimes aka GetDrip) is an email service provider that helps businesses and individuals send customized emails mostly through an automated process.
It can be counted as a powerful marketing automation tool. 
In today's highly competitive markets, it is indispensable to reach both existing clients and potential customers as quickly as possible. Apart from speed, there is also the need to have an attractive message and it is necessary to be able to reach as many people as possible.
Drip helps to achieve all of this seamlessly and in style.
The formats are customizable and you can adjust with the layout and final appearance of the final email that gets delivered into the clients' inbox. It's also quite popular and has been reported to be effective by many users all over the world.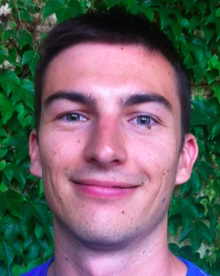 "
Lucas' experience with Drip
Drip is my go to ESP. The integration and automation power it gives you is just incredible.
I've learned to master it with Brennan Dunn's course.
Lucas Chevillard
Email Marketing Expert at Airbnb
Either you're a newbie to email marketing and eCommerce or you are already in the game and thinking of switching service providers.
This write-up will help you, in making the right choice about whether or not to adopt Drip as your email service provider of choice.
See Drip Pricing

Video demo of Drip

Short History
Drip has been around for quite some time. As far back as the year 2013, Drip had one of the simplest automation builders for emails, and it was somewhat unusual.
However, due to the influx of competition in the email marketing scene, it is not so unique any longer (Convertkit or Constant Contact).

In 2016, Drip was purchased by Leadpages. The acquisition reoriented the direction of the company to lay more emphasis on eCommerce email marketing. Drip has been quite successful over its lifespan. It has kept up with innovations and changes in the digital space, thereby being able to avoid getting obsolete and out of touch both with its specific customers and with the industry as a whole.

Considerable competition has sprung up with the popularity of email marketing campaigns as a popular way to drive sales and reach more people and in a faster manner. Yet, Drip has still managed to stay relevant as an email service provider of repute.
Drip has also been a trailblazer in the area of email marketing automation. Provided it is well used, Drip can be set up to work entirely on its own and automatically send out emails to users with only minimal periodic supervision. This is a far cry from the early days of email marketing when the whole process had to be wholly monitored by the user in order to make it work properly.
This is a clear sign that Drip has come a long way and is likely to stay relevant on the email marketing scene for the foreseeable future.
Who is Drip For? 
Majorly, one of Drip's most popular strong points for which it is renowned is automation. It's a system where all you have to do is set up a format and, if you're so inclined, write a bit of computer code, and the system does the rest for you by pushing out the emails.
Generally, automated email service providers are useful for almost all types of businesses in today's computer-dominated world. Either you run a hair retouching saloon, an auto mechanic garage, or you're a Xerox printer saleswoman.
We all need to get in touch with our clients from time to time and also pitch our products or services to potential customers.
Apart from this broad category of business owners, the following specific groups of people are the target audiences for whom Drip is particularly useful:
Newsletter service
This covers a broad category of people. Either it's a university department with plans to send periodic newsletters to faculty and students or a blog that sends out regular newsletters, Drip works just fine to help circulate info at the exact time you need and to the exact number of people you want it sent to.
With its customizable features and adjustable templates, you can easily change the content and leave the overall layout the same.

For sellers trying to cold email new clients, Drip will work just fine. It even has a free plan that can be used to reach 100 subscribers; this way marketers don't even have to spend too much in the immediate to get the word out and create awareness for products and services via email. 
Email course Providers
For those who run online courses (like Clickminded) via email and have to reach their students at frequent intervals, Drip is again a veritable tool that will come in handy to reach a large body of students as well as provide flexibility in changing the content structure.
Drip's key features
Below are the features that separate Drip from Other email service providers in the industry:
API interfaces for 3rd party integrations
Marketing automation platform for marketing and transactional emails
Tagging and Managing Users
Integrations
Drip's integration feature enables users to find and connect the tools they need to boost their conversions, grow their lists, and level up their marketing automation.
This feature allows you to sync your Drip account with the tools you use in the running of your business such as Shopify, Privy, Justuno, and Magento. With this feature, Drip not only sends emails to people who visit your website but also to people who visit and patronize you on the integrated tool.
Put in simpler terms, your customers on all other platforms you use to run your business also get automated messages once they synced with Drip using its integration feature.
Automation
As said earlier. Drip is an email service provider (ESP) that helps businesses and individuals send customized emails to desired clients through an automated process. This automated process was put in place to ease the stress of having to physically send the messages by yourself.
At the beginning of your business when you are yet to amass a large number of users. It is possible to keep track of every Tom, Dick, and Harry that visits your website and send them the required emails by yourself.
However, when your business starts booming and your website starts generating traffic of 100s of people an hour. Tracking every one of their activities becomes close to impossible. Hence the need for an automated process. This way, you can keep track of all happenings on your website and send as many emails to as many people visit your website.
Drip's automation process comes in various forms such as to remind them to visit the site again, to remind them of the goods they left sitting in their cart, to inform of certain promos, to wish them well on birthdays and anniversaries, etc. The main idea is to have a specified email automatically sent to specific customers at certain intervals for various reasons.
Here you can view what real Drip Automation looks like.
Tagging and Managing Users
The Drip tag feature enables users to know more about their customers. With this knowledge about your customers, you can customize their experience. And make them have a more enjoyable time on your website or shop than they would anywhere else. The key is to make them feel special and cherished, and that is what this feature is all about.
The tag feature allows you to apply custom tags, craft custom fields, and record unique events so users can always be aware of the activities of all of their customers and take necessary actions on them.
The Drip tag feature also enables users to know their top customers. This is done by a scoring system where points are given to customers for carrying out certain activities on the website or shop. With a scoreboard showing which customers patronize you the most. Drip users can then easily see their most loyal customers.
This helps users to know more about his/her clients and take active measures towards making sure they make purchases. Users also get to see the ones to apply marketing strategies on so as to turn them into more active and loyal customers.
Campaigns
With the Drip campaign feature, users are able to send special emails to their customers. These types of messages are different from the normal ones you send to welcome customers to your site or thank them for their patronage. These are the types of emails you send to inform them of promotions, wish them a happy holiday and other messages you might want to relay to all of your customers.
Drip made it very easy to set up and broadcast campaign emails by making the process simple and user-friendly. To make it even easier. They have templates for campaign emails ready to be sent out after the user makes little adjustments. Adjustments such as the name of their website or shop and their slogan.
So, basically, all you have to do to send campaign emails with Drip is to input the name of your shop or dedicate a few minutes of your time to create the campaign message. Hit send, and your campaign mail is out there sitting pretty in the inbox of all your customers.
Creating Templates
A template can be said to be a sample of something used to guide people. It is a form of a layout showing how something e.g. a write-up should be. Creating templates, in this context would be the creating formats of emails to aid people who have little or no idea as to what and how one should look.
Not everyone is able to write their own code which will specify mail layouts and formats. This used to be one of the major drawbacks of Drip.  As it was quite difficult for those who are not too familiar with the layout. However, a recent upgrade (2018) makes it possible to use a drag and drop builder to create a personalized template. This is a visual method and it makes it easier to create custom templates and formats.
List Building
Drip also allows you to customize lists and create particular emails for different subscribers. Rather than having to sort your subscriber lists and determine which emails get sent to who, drip helps you to automatically separate them, ensuring that the right email ends up in the right customer inbox.

Drip Screenshots

Drip Pricing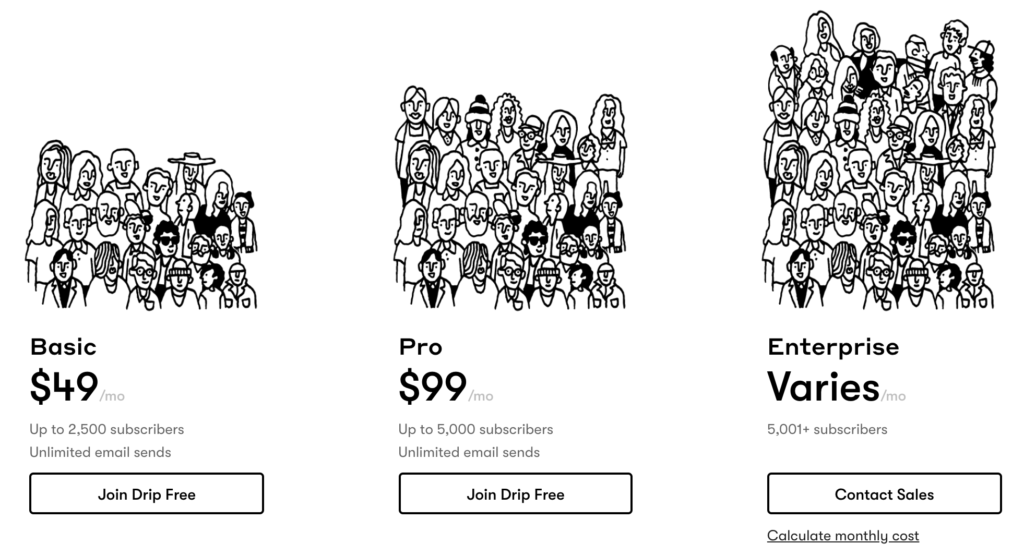 Starting Price is $49.00/month
See pricing details
Pricing Details 14-day trial. Free up to 100 contacts.
Price based on the number of subscribers