All You Need To Know About MailChimp
When you are looking for a marketing platform tailored to meet the needs of small businesses, MailChimp is the go-to company.
MailChimp creates beautiful and innovative products tailored towards helping businesses find and narrow down on their potential customers. MailChimp is arguably one of the fastest growing marketing company in the world. It actually started as a side business. The amazing thing is that till date. Mailchimp is still 100% owned by the founder and they are already in profit.
As published by DMR MailChimp currently has about 14 million subscribers and over 1 billion emails are sent daily. This approximates to a total of 15 billion emails sent monthly by its clients.
One of the main reasons why so many small and big of businesses prefer to use Mailchimp is its transparency in its pricing. You can check out on the go how much you are been charged for every one of your campaigns. They also just introduced Pay-as-you-go packages that give customers the flexibility to pay only for services used.
MailChimp still continues to dominate the market as it is mandatory for new users to sign up for the free account before giving access to the premium packages. This is to enable you to have a feel of what you are to expect in the event that you subscribed for the premium plan.
Adding contacts to your mailing list can never be easier with the company. MailChimp allows you to upload contacts saved on your spreadsheet. Also, you have the flexibility to also access your MailChimp dashboard right from the backend on your WordPress. All you have to do is install and active the MailChimp plugin. This makes content marketing very easier for businesses that blog.
Read the MailChimp Review See MailChimp Pricing

MailChimp's history
MailChimp was co-founder by Be Chestnut and Dan Kurzius in 2001. They started out as a web design agency. The agency was then known as "The Rocket science group".
The Rocket science group major aim was to serve corporate bodies. And, on the side, help smaller businesses with limited resources with email marketing. However, in 2007, Ben and Dan discovered that MailChimp has become more profitable. They decided to shut down the web design agency and focus more on serving smaller businesses with MailChimp. As of now, MailChimp is no longer just an email marketing tool it used to be. This company as overtime metamorphosized into a full fled marketing company.
MailChimp was designed right from when the idea was conceived to serve and help small businesses grow. This company is always on the lookout to make marketing easier to the non-tech savvy users. With Mailchimp installing and email marketing management could never be easier. Its featured tools and user interface comes with a lot of flexibility.
MailChimp plans to become a holistic marketing platform with tendencies to accommodate all kinds of businesses. Ranging from small, medium to big businesses. However, It was reported by TechCrunch that 16% of MailChimp users are eCommerce businesses and this number rose to 46% last years. This clearly shows that's more of Mailchimp new products and inventions will be targeted more to the eCommerce industry.
Who is Mailchimp For? 
This email marketing giant is known for the following services it offers its users:
Generous Marketing Packages
Strong with Analytics
Generous Marketing Packages
MailChimp is recognized in the industry for offering generous and mouthwatering marketing packages.
Its packages are tailored more for small business and developing the enterprise. It should, however, be noted that MailChimp also has the capacity to manage high volumes of emails. Either for small businesses, big corporations and multinationals. Regardless of the size of your business. MailChimp has got a package that suits your budget.
This company also has this Freemium plan. This plan gives small businesses and big businesses the flexibility to send up to 12,000 emails in a month to approximately 2,000 subscribers. It should, however, be noted that the MailChimp Freemium plan comes also with key marketing features. This feature gives room for automation and creation of new campaigns. And to top it all, all features are accessible within the user's dashboard.
Strong with Analytics
MailChimp is not just known for helping small businesses with limited marketing resources. They are also very strong with analytics and tools that help clients to connect with prospective customers.
MailChimp offers its clients with the flexibility to create and manager subscribers on the go. With their strong marketing tools. You can easily analyze and make modifications to your new and existing marketing campaigns in the event that you are not satisfied with the efficiency of your campaign.
Mailchimp's key features
Below are the main features that come with MailChimp:
Launch campaigns with ease

Smart and simple integration with other CMS

Simple Email Marketing Automation

Email Marketing optimization
Launch campaigns with ease
Campaigns are your way of reaching out to your customers and letting them know of promotions coupled with your products and services. Initially, when you start up your website or shop and you are still lagging in terms of customers when your customers are still countable. It is easy to reach out to them individually. However, when you have become somewhat successful and you now have huge customers. Messaging each of your clients about your new products and services becomes too strenuous if not impossible.
Sending emails can never be any easier as the emails can be sent via the MailChimp mobile application. This application is available for download both on the iOS and Android store.
With the MailChimp campaign feature. It becomes easier to create and launch those campaigns you need to keep your customers informed and happy. This helps you grow your audience, sell more of your goods and in general, build and improve your brand.
Mailchimp's campaign feature enables users to do many campaign-related things. For one, you get to create emails, ads, newsletters, etc. all without leaving the MailChimp app. MailChimp campaign feature also makes it possible to extend your campaign to the places where your customers spend their most time. Places such as social media. This is done via tools such as Facebook and Instagram ads, emails, landing pages, etc.
The MailChimp campaign feature also makes your campaign ads look more professional and business-like as they have an email designer which makes sure of this.
Smart and simple Integration with other CMS
Mailchimp's integration feature gives users the ability to find and connect the tools they need to boost their conversions. Grow your mailing lists, and level up your marketing automation. The MailChimp integration feature enables users to sync their MailChimp account with the other platforms. Such platforms include Shopify, Magento, WordPress, Salesforce and Big Cartel. With this feature. Emails are not only sent to people who come to your website but also to people who visit and patronize you on the integrated tool.
To put this in simpler terms. Your customers on all other platforms you use to run your business also get automated messages once they are synced with MailChimp using its integration feature.
The MailChimp integration feature enables users to do a lot of things such as seeing the big picture as when your tools are all synchronized and work together in one place. You will able to do more with your marketing. You also get to personalize your messaging as everybody you need to send campaign ads are all in one place. Users can also significantly make use of data gotten from the synchronization of their apps to better plan marketing strategies.
Simple Email Marketing Automation
As it is known that MailChimp is a powerful email service provider (ESP). That helps businesses and individuals with their marketing strategies by sending customized emails to desired clients and customers. This feature was specifically integrated into the system to ease the stress of users having to physically send the messages by themselves or employing people to do it on their behalf.
However, when your business starts growing and sales start to boom. Your website begins to attract an enormous amount of traffic. Tracking every one of their activities becomes close to impossible. Hence the need for an automated process. This way, you get to keep track of all happenings on your website or shop. This will enable you to send as many emails as possible to your subscribers
Mailchimp's automation feature comes in various forms such as welcome automation mails which welcomes every new subscriber or customer you get with a warm message, to wish them well on birthdays and anniversaries, to remind them of their forgotten and abandoned carts, to inform them of amazing offers, promotions, and other related posts, etc. The main idea of the automation feature is to have a specified email automatically sent to specific customers at certain intervals for various reasons.
The MailChimp automation process helps users in various ways. It helps them get time on their side as they are able to focus on getting other things done. They also get to make more sales, do more marketing and have more customers without necessarily having to put in the extra effort. To put the icing on the cake, the automation feature enables users to stay connected and build a personal relationship with their customers in order to sell more stuff and grow their business.
Email Marketing Optimization
MailChimp allows you to focus more on strategy as they help you with marketing. MailChimp optimization feature works in various ways and forms but the end game remains the same. To ensure your shop is working in the optimum condition and you are making as many sales and profit as you ought to.
You can make use of the optimization feature to carry out segmentation. Here, you get to know what is going on within the different segments of your customers. This way, you can easily decide what strategies will work for the various segments rather than employing the same strategies for every customer.
For instance, once you are able to differentiate between your ghost customers and the loyal ones. You will know where to focus more on. The former and the ones to send more thank you messages to. Then you send encouraging emails to the latter. This way, you will be able to significantly reduce the resources you would have wasted in carrying out strategies that are not working such as actively marketing and advertising the business to an already loyal customer.
With the optimization feature, users also get reports of how their campaigns are working. You get to know how effective your campaigns are in drawing in customers. You know what campaigns to stop and the ones to invest more resources in. Data gotten from optimization can also be used to unlock more insights for carrying out more personalized marketing.
All in all, MailChimp's users are able to know more about the effectiveness and efficiency of their marketing strategies and campaigns and know the ones that are working and the ones that are not before they consume lots of time, effort and resources.

MailChimp Screenshots

MailChimp Pricing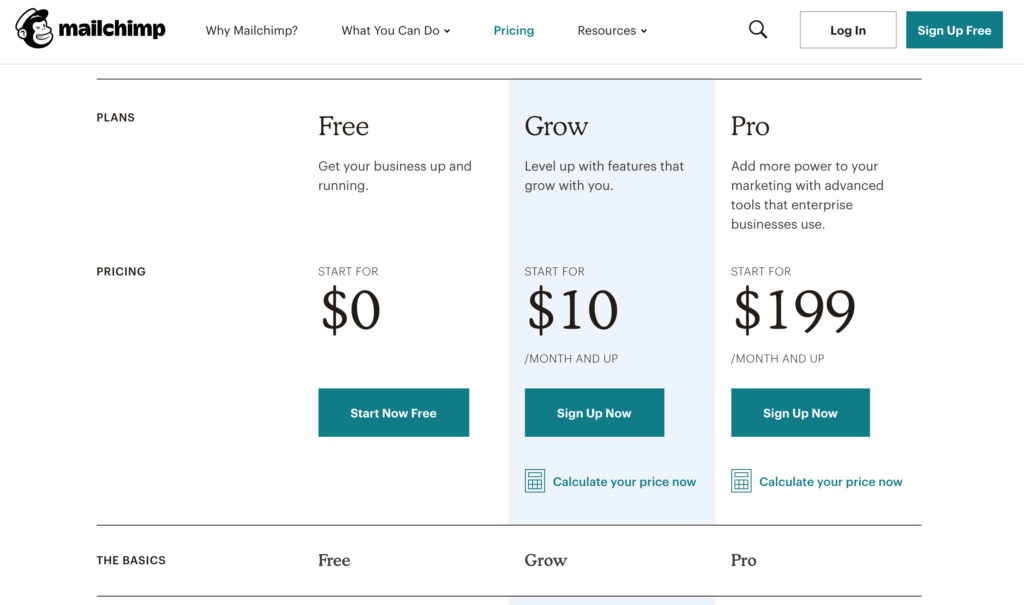 Starting Price is $10.00/month
Price based on the number of subscribers

Information
More information about how it works and where to get the Mailchimp app can be gotten by following the below links: