As a small to medium-sized business, it is essential to have an efficient email marketing tool. Whilst ActiveCampaign and Drip have already been established as excellent email marketing software, their outstanding features and designs make it difficult to choose between the two. However, a comparison of ActiveCampaign vs Drip can help make the process easier for you.

For one, ActiveCampaign is designed to make it easier for small to medium-sized businesses to have access to advanced and cutting edge marketing automation capacities. Drip on the other end also provides marketing automation. However, it is particularly designed for eCommerce small and medium businesses.

Drip is also relatively newer on the market compared to ActiveCampaign; nevertheless, it has managed to grow exponentially and remain amongst top charts. Whilst both marketing platforms are geared towards helping you grow and improve your business, they still bear several differences that are worth noting – whether good or bad.

Below I've compiled a detailed outline of ActiveCampaign versus Drip to give you a clear comparison. Through this detailed contrast, I tear through essential features to help you make a proper and informed decision on which email marketing platform to go for.

Ease Of Use & Editor
When it comes to the ease of using the two platforms you will immediately notice the difference. ActiveCampaign is built with older and less vibrant features compared to Drip. The ActiveCampaign interface boasts a more serious business-like interface.

When you browse through the menu options, you will find choices such as contacts, campaigns, automation, and others. Depending on your preferences, you can also customize the main page to make it more user friendly for you – whether you want a simplified dashboard or to leave it with more intricate default settings.

Yet, because of its business-like design, it is quite easy to use the ActiveCampaign and edit your emails. You can do most of our editing and customization by simply choosing the drag and drop editor. You can also add extra elements to the email content such as links.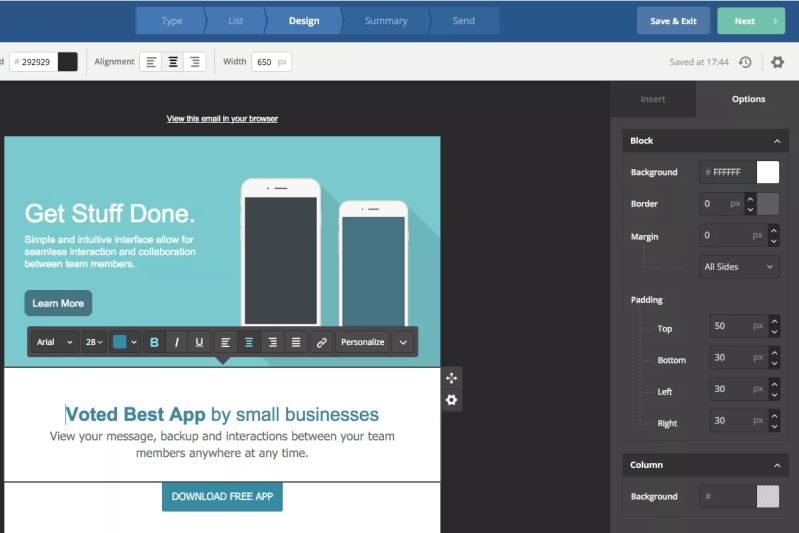 Drip on the other end features a more colorful, vibrant, and new age interface design. Unlike Active Campaign, it has a simplified interface with just the essential features listed atop the menu option. However, the email composition and editing require more hands-on work as you manually choose options you want to edit or work on.

Winner: Whilst Drip is simplified and draws your affinity to it, the ActiveCampaign interface is more interactive.

Design and Flexibility
When it comes to email designs and flexibility, each platform has its fair share of delight. ActiveCampaign is equipped with up to 30 fully designed responsive email templates. It all depends on the design you want and the quality. Some of the templates feature a basic go-to design and quality whilst more effort is put on others.

Drip on the other end prompts you to use your artistic mind and skills. Lending to its modern design, features, and ideas, rather than giving you more template options, it requires you to use your skills. With only 6 basic email templates, Drip requires you to do your styling and customize your colors. You also have a choice to upload your own designed files in the form of HTML.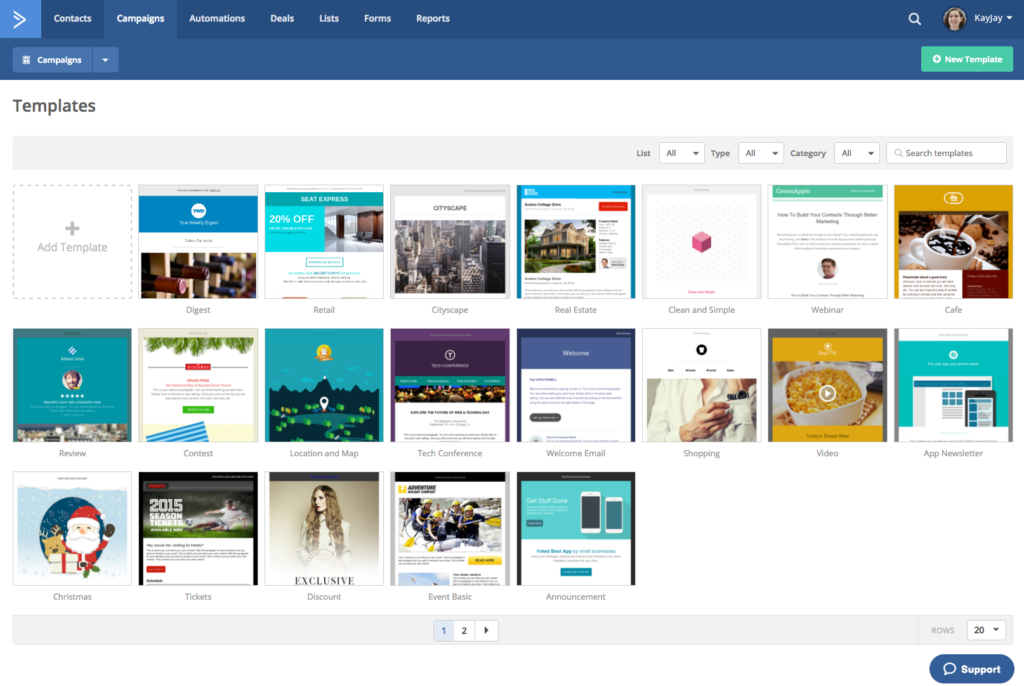 Yet, if you look at both platforms in general, not many options are offered. When it comes to variety neither 30 templates nor 6 are enough for reasonable options to choose from. So either way, each platform prompts you to use your own artistic imagination and innovation. After all, it's all about building the perfect tools and strategy for your business.

Winner: Both platforms don't offer the best design features, yet, ActiveCampaign emerges as a better option as it has more options compared to Drip.

Email Marketing Features
The number one thing that comes to mind when thinking of email marketing features is automation. You want to know how effective, efficient, and automated each platform is. Even the more business type design ActiveCampaign boasts incredible automation features.

You can use a visual editor to choose automated templates. If you have time to get creative or want to share more customized features, you can use the visual editor to build your own automation. The manual building process isn't at all complicated – with a readily available list of items you can choose, it makes template building for emails and data segmentation so much easier.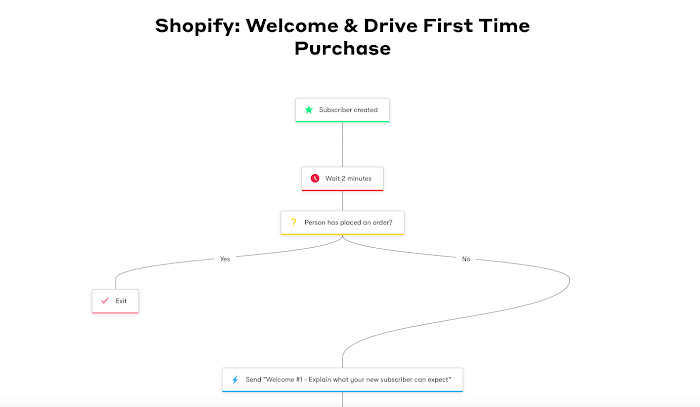 And as always, ActiveCampaign doesn't disappoint with its intuitive features that make the process easier and quicker. ActiveCampaign is also built with an incorporated customer relationship management feature. This means that many of your business's sales processes can be integrated here. It's like a one-stop marketing and sales solution for your email marketing generated gigs and deals.
Keeping up with its theme, Drip has modern emailing marketing features. Whilst you build your own automation, the drip interface offers a cross section of integrated features that let you add tags and links for a more appealing and well-rounded finish.
You can even link to your Shopify store to really get on point with your marketing strategy. The automation features also allow you to link to other tools such as the automation rules allowing you to reach out more to potential and existing customers.
Winner: ActiveCampaign emailing features are easier to use and more intuitive. The features also allow you to integrate many of your business processes.

Registration Forms
ActiveCampaign offers flexibility and ease of use when it comes to form editing. You can build different form types such as inline, pop-ups, and floating bars. The more premium your plan is, the more options you have. ActiveCampaign also gives you more control and options for building your forms.

You can add texts, checkboxes, and even drop down menus to make them more interactive. And as many options and features form editing for ActiveCampaign has, the process still manages to be quite easy for anyone.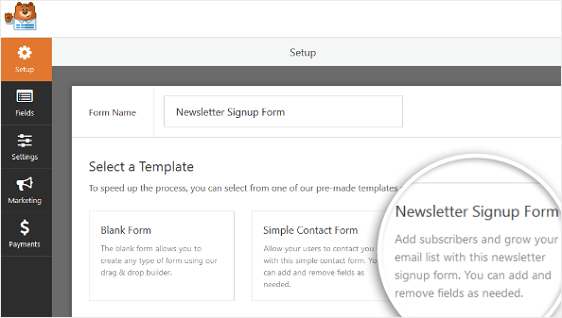 Drip on the other end also allows you to customize your forms. While ActiveCampaign is much simpler to use, beginners may find Drip a little bit confusing when it comes to form editing. Additionally, Drip gives you a range of tools to manipulate, yet, not all features are available for all options. For example, for pop up forms, you may not be able to add a dropdown menu or checkboxes.

Winner: ActiveCampaign is more flexible and easy to use when it comes to editing the forms; it also offers a range of straightforward features.

Spam & Design Testing
Before you launch any marketing tool, testing is always a good idea to ensure quality and functionality. Thus, before you send out your emails, you should test them. Using SpamAssassin, ActiveCampaign lets you spam and design test the emails.

This tool tests the emails automatically before sending them. However, if you want to do more detailed testing such as how the email will look on clients' Gmail, then, you will have to pay a little extra for this tool.

Drip however, doesn't have spam or email design testing. Sure, you can do standard email previews before sending them – but beyond that you have no other tools for testing. So you have to invest in separate tools to ensure your emails will not be easily flagged as spam.
Winner: ActiveCampaign is a better choice because it offers integrated spam and email testing beyond email previews. This allows you to anticipate how your emails will look from your clients' point of view.
Reporting
Comparing ActiveCampaign vs Drip in reporting yields positive results from either platform. ActiveCampaign boasts a more comprehensive data interface; the reports give you data such as opens, clicks, and unsubscribe numbers. Whilst ActiveCampaign reports give you a lot of data, at the same time the data doesn't hold too much detail.
For example, you can get unsubscribe numbers, however; you will not get a geographical layout of these numbers. You may still be able to get more data such as automation reports and contact trend metrics but this means that you need more integrated features such as CRM or deep data set up with platforms such as Shopify or BigCommerce.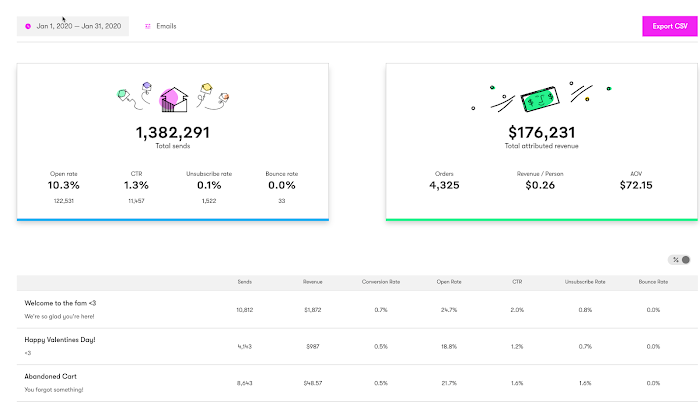 Whilst ActiveCampaign is more data-based, drip is event-based. Drip will give you standard reports as well as analytics such as subscriber growth, unsubscribes, and bounces. Unlike ActiveCampaign, Drip will also give you event-based data such as clients visiting a webpage or contacts that had a tag applied.
You can also integrate your Drip to platforms such as Shopify to calibrate data such as total sales that are a result of a particular emailing campaign. Additionally, you can also see revenue generated and average orders per subscriber and email.
Winner: Drip emerges as a better platform for reporting as it gives you both basic data reporting and event-based reporting to understand the numbers and trends.

Deliverability
What makes both ActiveCampaign and Drip top email marketing platforms is their deliverability. For the non-tech savvies, deliverability is the platform's' likelihood of successfully delivering marketing emails to a subscriber's inbox.

I conducted a deliverability test for ActiveCampaign and Drip. And the results were impressive when tested without activating the sender policy framework (SPF) or DKIM authentication; the deliverability for Active Campaign was at 63.46% whilst drip was at 93.46%. When SPF and DKIM were properly activated, the percentage rose to 92.31% for ActiveCampaign and up to 100% for Drip.

So whilst drip doesn't have proper spam and email testing, it triumphs in email deliverability. However, I also learned that proper set up helps. So activated SPF and DKIM authentication significantly boost deliverability. And if your email list and addresses are viable, the results get better.

Whilst email deliverability for the platforms I tested was exceptional, this will not work for all cases. You must do your due diligence, ensure you have the proper set up, email editing, and features – only then will email deliverability be high for your campaign.
Winner: Drip most certainly takes the lead with deliverability. Whilst using this platform, if you can get up to 100% deliverability with activates SPF and DKIM authentication.
Integrations & Extras (Other Features)
You are more likely to go for a product that gives you more functional features. Integrations also make your email marketing strategy more efficient and convenient. ActiveCampaign offers integrations with up to 250 different applications. This includes popular CRMs, website builders, analytics tools, and social media platforms such as Facebook. This makes the ActiveCampaign a good value investment.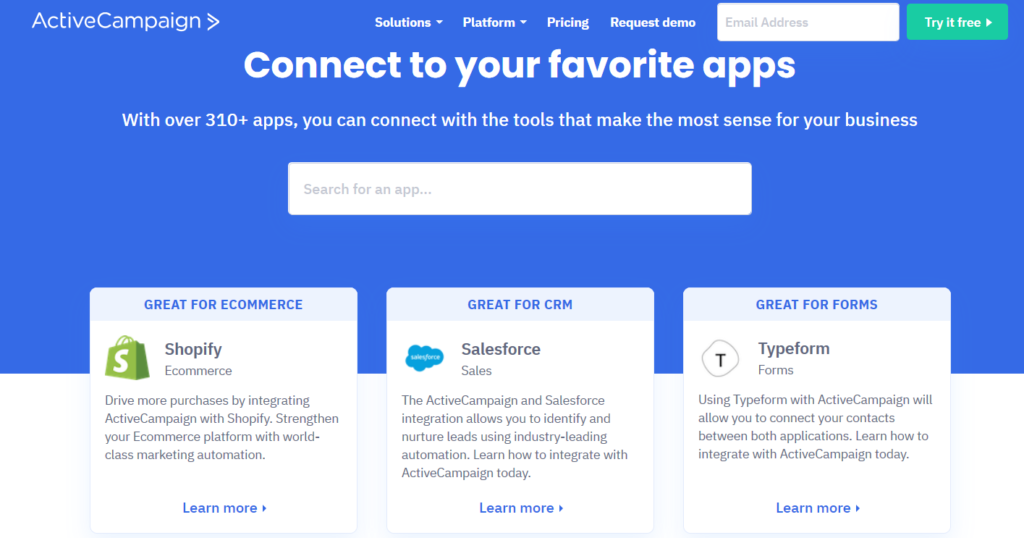 Whilst Drip also offers integration with other applications – it gives you fewer options compared to ActiveCampaign. Drip only integrates with about 100 applications. However, it gives you access to important and popular Apps such as Facebook, PayPal, and Shopify. Although Drip doesn't integrate with any CRM Apps, you can opt for a paid-for third party integrator.
Winner: With the ActiveCampaign vs Drip comparison, ActiveCampaign takes the lead on the integration arena. With the ability to integrate with up to 250 applications, it gives you more options and features. Plus, unlike Drip, you can integrate with other platforms such as CRM (which Drip doesn't integrate with).
Support
As virtual services, email marketing software need to have active support. Both ActiveCampaign and Drip do an excellent job at this by providing email and live chat support. You can even find more customer support for Drip on its Facebook page.

And if your business needs more support, each platform offers you one on one training. ActiveCampaign also has tutorials and webinars on its site to easily transition you into usage. Both platforms are incredibly fast and responsive.

Overall, I've had a pleasant, quick, and useful interaction with their live chat support. The support from ActiveCampaign, especially email-based or live chat is limited to their US central time business hours.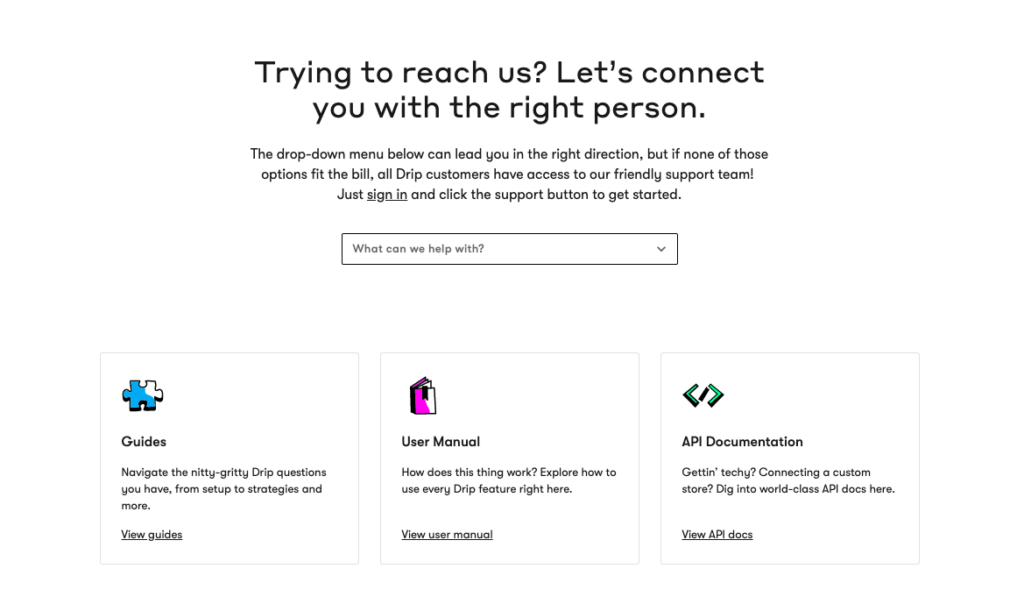 Keeping up with its new age and modern theme, Drip offers you more accessibility to email and live support as it is available 24 hours. So even if you find yourself on the other side of the continent, the live support is still there to conveniently cater to you.

Winner: Although both platforms offer good quality and responsive email and live support, Drip still emerges as the winner. ActiveCampaign offers extra tutorials and webinars, yet, this is no match to 24/7 live human support –especially if time is a factor.

Price
ActiveCampaign Pricing Plans vs Drip Pricing Plans
With all their functional features, it comes with no surprise that both ActiveCampaign and Drip boast premium prices on their plans. Like most email marketing software, these platforms charge according to contacts.

ActiveCampaign gives you an option of four plans, i.e. Lite, Plus, Professional, and Enterprise. The cheapest plan is Lite; costing you an average of $15 per month for basic features and marketing automation.

If you need integrated features such as CRM and Deep data Integrations with Shopify, WooCommerce, and BigCommerce, you will need to pay at least $70 per month with Plus plan. This gives you a maximum of 500 contacts. Yet, you may pay up to $249 per year for 10,000 contacts on the Plus plan.

Drip on the other end is more straightforward. No matter the plan you are on, you get all the features. The lowest plan costs $49per year for up to 2500 contacts (you can compare this to the ActiveCampaign plus plan for 2500 contacts which you pay $125). The highest plan which offers up to 10,000 contacts costs $184 compared to Active Campaign's @249 per year.

Winner: Although Drip appears to be a more affordable choice, this shouldn't be the only factor. You also have to look at the value you get. So the winner depends on the features you are looking for. One thing is for sure – the prices are premium!

Feature Comparison Table – ActiveCampaign Vs Drip
When it comes to their overall feature and performance, ActiveCampaign surpasses Drip. This is not to say that Drip is not a good option. Yet, with the ability to integrate with up to 250 applications and its preset 30 automation templates, ActiveCampaign proves to have a better assortment of features and functionality.

Plus, ActiveCampaign is designed to be more intuitive and easier to use even for beginners. Drip on the other end triumphs on deliverability, reporting, and overall support.

| | | |
| --- | --- | --- |
| | ActiveCampaign | Drip |
| Ease of use and editor | 4.5 | 3.9 |
| Design and flexibility | 3.7 | 3.5 |
| Email marketing features | 4.8 | 4.4 |
| Registration forms | 4.2 | 4.0 |
| Email and spam testing | 4.9 | 3.5 |
| Reporting | 4.0 | 4.5 |
| Deliverability | 4.8 | 5.0 |
| Integration and other features | 4.8 | 4.0 |
| Support | 4.8 | 5.0 |
| Price | 4.0 | 4.0 |
| Overall Rating | 4.45 | 4.18 |
ActiveCampaign Vs Drip – Which Is Better?
We've established that both platforms offer impressive email marketing automation. Yet, one must emerge as the winner. Overall, we have surmised that each platform bears its benefits and drawbacks.

ActiveCampaign boasts numerous features and integration options.
Yet, it still lacks the modern element – even its UI/UX design is outdated. Yet, whilst Drip is newer and modern, it doesn't offer as many features and integration options. Drip works great for eCommerce if you are looking for a simpler and more cost-cutting option.

However, if you want a more integrative and well-rounded email marketing solution then, ActiveCampaign is what you need. This all in one solution allows you to not only integrate your marketing process but also your sales processes, allowing you to bring together your social media, website building, and CRM tools.

And at the end of the day, you can easily analyze activity and performance over each of these tools. It's also a good idea to try out the platforms to get a true feel of how they work for your particular business.
The good news is that you can test each of these platforms for free because each offers a free 14-day trial.