It's so difficult to choose the best email marketing platform that suits your small business needs these days.
Thousands of new, complex solutions keep popping up every day.
On top of that, the old and trusted marketing platforms are so, so expensive.
To many small business owners, it seems like email marketing was made only for the big boys with the big budgets.
Right???
"Wrong!!!"
Sendinblue bridges the gap between the big boys and us.
It has made email marketing so affordable that even a bootstrapping start-up in Africa could be able to afford it.
This ultimate guide will give you a clear-cut view on everything you would want to know about Sendinblue, and how it will benefit your business.
---

What is Sendinblue?
Sendinblue is an all-in-one cloud-based marketing platform that offers:
Sendinblue was formed in 2007 by its current CEO Armand Thiberge and Kapil Sharma in Paris, France where it is headquartered.
It now has offices in:
Sendinblue boasts of over 80 000 users world-wide and counting.
Examples of companies using Sendinblue
Moovjee
Moovjee is a social entrepreneurship company that provides student entrepreneurs with:
Testimonials from entrepreneurs
And helps arrange meetings in the region.
Moovjee uses Sendinblue for its marketing operations, and because of that, they are growing rapidly.
Crossfit Calmeta
Crossfit Calmeta is a company that provides you with an area where you can come and practice whatever sport you want to practice. They have:
They are proud users of Sendinblue as they are also based in France.
Edwart Chocolatier
Edwart Chocolatier is a century old chocolate company that sells:
Coconut almond milkshakes
Edwart Chocolatier uses Sendinblue for its marketing responsibilities.

Why choose Sendinblue?
The better question to ask here is;
Why do 80 000+ businesses choose Sendinblue?
Sendiblue was simply built for you, the small business owner.
Perhaps you want to match the marketing powers possessed by the big businesses that seem to be using magic.
Or perhaps you tried email marketing in the past, and fell out because of budget constraints or complexity of use.
Whatever it is that brought you here, I understand.
You have no need to worry anymore because Sendinblue has rendered all those problems obsolete.
Sendinblue is super easy to use and very affordable for those running on extremely tight budgets
It gives you all the marketing powers possessed by those super expensive marketing platforms.
This gives you a higher chance to snatch away your elite competitors' customers, all at a reasonable price.
Try Sendinblue for free right now to see what I am talking about.
Sendinblue Features
Sendinblue offers a wide array of features that would make any PhD marketer blush into laughter.
Below are some few examples.
Customer Relationship Management (CRM)
Customer relationship management is a way in which a company analyses and manages its interactions with its old, current and potential clients or customers.
Sendinblue is one of the few marketing companies with state of the art CRM capabilities.
All you do to get started with the Sendinblue CRM is:
Upload all your contact information. (No need to install anything)
Store everything you have on a customer right on their profile. (all the data is stored in one place)
Segment your list.
Assign your team members some tasks and make sure they meet the deadlines.
Track everything that is happening on your SendinBlue CRM.
Email Marketing
For every dollar you spend on email marketing, you get a return on investment of $42 – Forbes
Is that true for your business?
Probably not.
They forgot to say;
"Depending on the email marketing software you are using."
Starting an email marketing campaign with Sendinblue is so damn easy.
Firstly you choose an email template from the already-existing professionally made ones. No need to create your own. Just drag and drop in your:
Dynamically personalise the content without being a coder.
Segment your contacts.
A/B test your message.
And send to multiple contacts at once.
Marketing Automation
Marketing in the 1990s to the early 2000s was a huge fuss.
Marketers had to do repetitive tasks that left them bored and unmotivated.
Marketing automation has changed that.
Sendinblue offers marketing automation.
Simply, define your automation workflow with the conditions and rules that trigger actions that you want to automate.
It is very easy to set up triggered campaigns with Sendinblue's workflow editor based on many different things.
All campaigns are tracked and analysed for you.
This will help you send emails at the best time, as well as using the data to improve your upcoming campaigns.
If you are not familiar with marketing automation, I'd strongly recommend you start out with the Sendinblue marketing automation because of its simplicity.
SMS Marketing
Are you involved in SMS marketing?
Please tell the truth.
Are you?
I bet not.
Did you know that SMS marketing campaigns have an average open rate of 98%?
A whooping 98%!!!
Yep, text message marketing beats email marketing on any day, which has an embarrassing 20% open rate.
Sendinblue offers SMS marketing, something many marketing solutions do not offer.
What is amazing about Sendinblue's text message marketing feature is that you can:
Bulk SMS to any of segmented contact lists
And track the performance of your text message campaigns seamlessly etc.
Landing Pages
Landing pages are a golden mine for businesses these days.
Sendinblue gives you the ability to create stand-alone web pages (landing pages) that are SEO optimised.
They offer a drag-and-drop landing page builder meaning your grade 5 daughter can use it.
Landing pages are a new school way of capturing leads.
Your business needs beautifully designed landing pages to survive this era of internet marketing.
Apart from the above five features,Sendinblue also offers:
Six different languages to choose from (EN, FR, ESP, IT, PT and DE)
Different levels of account access
Storage for images and data
Great support and much, much, more

Pricing – How Much Does Sendinblue Cost?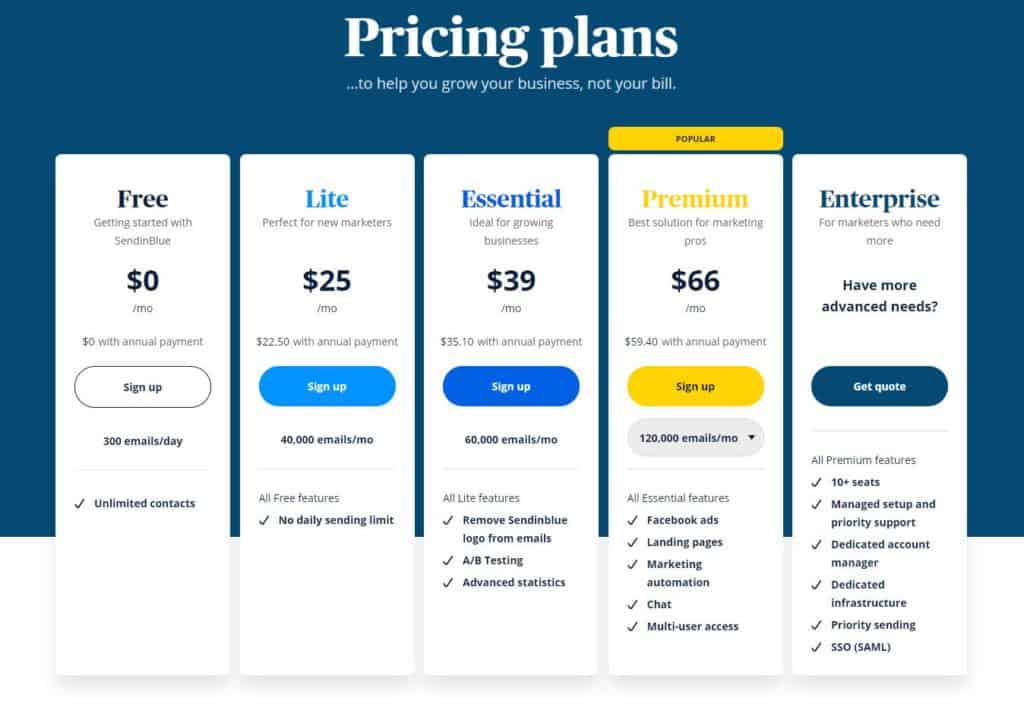 With all those features, one would be too scared to even want to hear the price.
All I can say to you is;
"Relax buddy."
"Sendinblue was made primarily for you (the small business owner)."
Sendinblue saw that major marketing corporations have been torturing businesses with their high prices, and they have taken action.
They are now giving you the ability to market yourself and your business with the same tools that big companies are using at a super reasonable price.
Sendinblue has four different plans, namely the:
Below I have created a table which gives you an overview of all the features you will find in each plan.

Sendinblue Integrations
Sendinblue can integrate with many different apps and platforms.
In today's ultimate guide, I will talk about only two.
WordPress and Shopify.
Sendinblue WordPress Integration
Sendinblue integrates seamlessly with WordPress.
Just connect the two with the Sendinblue plugin, which has been downloaded over 50 000+ times.
Doing this will enable you to:
Create subscription forms
Create advanced WordPress marketing automations
Download the free Sendinblue plugin today.
Sendinblue Shopify Integration
Sendinblue and Shopify integrate like mother and son.
Simply download the Sendinblue plugin on the Shopify App Store and start winning.
Automatically add you customers to your email list
Track the behaviour of visitors on your site
And start building amazing relationships with your customers, all in one place.

Pros and cons of using Sendinblue
Sendinblue sure does have many advantages, but they do have disadvantages that I will be pointing out for you today.
Pros
Cons
It is super easy to use

It works perfectly with HTML code

It has a free version

It is very affordable, plus they have a good pricing structure

It gives you stats about everything, this helps you know where to improve

And it has very flexible email templates

There is no direct social media integration

They have to add new templates regularly

The automation system is limited

Sendinblue Alternatives
Mailchimp shares the same target market as ActiveCampaign in Small businesses. They are an email marketing software that also offers marketing automation.
Pros of using ActiveCampaign over Mailchimp
The ActiveCampaign email deliverability is higher
It offers a hundred times more integrations
It offers more powerful features
Pros of using MailChimp over ActiveCampaign
Mailchimp has a free forever plan
The platform is more user friendly
Good for small and straight forward marketing campaigns
Hubspot is one of the most powerful marketing and sales automation tools in the market.
Pros of using ActiveCampaign over Hubspot
ActiveCampaign is way cheaper
Active campaign's platforms if made specifically for small businesses
It integrates with a hundred more apps than Hubspot
Pros of using Hubspot over ActiveCampaign
Hubspot is well known brand
Easier to use
Their CRM is more advanced
3. Our third and final ActiveCampaign alternative goes to Sendinblue
Sendinblue is a cloud-based marketing communications software that provides digital marketing tools.
Pros of using ActiveCampaign over Sendinblue
ActiveCampaign offers webinar training sessions
Good A/B testing automation sequences and campaigns
It is easy to build custom automated workflows
Pros of using Sendinblue over ActiveCampaign
You can send up to 9,000 emails per month for free
The email editor is easy to use, some users even claim there is almost no learning
Their price is hard to beat

The Beginner's Guide to using ActiveCampaign
Everybody is busy these days. We are all looking for tools that will lessen the burden of our business and life from us.
As I have promised you from the very beginning I will be delivering you from the burden of sales and marketing so you can take care of what matters most; which is growing your business.
You want to grow your business, don't you?……….Leave the sales and marketing to the beloved ActiveCampaign, NOW!
ActiveCampaign does a good job of welcoming and teaching newbies on how to use its magnificent platform. Either way I will give you a quick rundown of how to get started……..Let's go!
Create your account
Like any platform online, just go to the ActiveCampaign website, look to the top right corner, click signup, then abracadabra! You can now become a monk……just kidding☺☺☺
Make sure you fill out all the details, from the physical addresses, to the phone numbers to all the people who have the right to the account, to everything. Don't worry you can change everything later.
Website tracking
It is now time to ask your developer or site manager to add tracking to your website. This is key. I haven't broken this to you yet but here you go; ActiveCampaign software has the power to track the behaviour of your site visitors at any given time. This helps a lot because it gives you insights on how to improve your user experience (UX) and other stuff.
Create your lists
Before you get too excited about the platform, take a deep breath and start by creating a list. I guess you learned this from your old school email marketing platforms.
Did you?
If not, don't worry, it's the easiest thing you are going to do today.
Creating a list first helps you start off at a high, with a stellar game plan and focus on how you are going to tackle your very first super strategy.
Make sure you have these 2 basic lists when starting off:
The updates list- for sending your new content and latest stuff you are working on
The promo list- for promotions
The post sales list- for the removal or reduction of dissonance forces working on your clients
And any list that fits your business and industry needs
Develop a system of tagging
I can't stress on the importance of developing a system in which you are going to use whilst tagging.
You need to do all the work at the beginning to get the sweet fruits of an all-in-one marketing automation software.
You develop a tagging system so that you can easily find the segmented group you want to send your campaign to.
Make sure your structure is very precise and your tag descriptions are well detailed to avoid unnecessary delays to your campaigns.
Use the free automation templates
ActiveCampaign plans come with free automation templates made especially for you the beginner.
Test the waters with these. You have nothing to lose, plus you are still in the learning stage.
These prebuilt automations include:
The social media automation
The abandoned cart automation
The webinar automation
The re-engagement campaign automation
And more
Use them!!!
NB: If you happen to be a beginner, which I believe you are, make sure you get help from their support crew. They have over a thousand workers waiting to serve you.

ActiveCampaign FAQs
What is Sendinblue?
Sendinblue is a marketing software company headquartered in France. It was founded in 2007 by Kapil Sharma and its CEO Armand Thiberge. Sendinblue offers email marketing, marketing automation, a CRM, landing pages, SMS marketing and much, much more.
Is SendinBlue any good?
Yep. Sendinblue is very good. It currently has more than 80 000 users and counting. Sendinblue has a pretty neat interface. It is very easy to use, even beginners can use it. Sendinblue offers a free forever plan. They offer everything you need to start building great relationships with your customers.
Which is better: Mailchimp or Sendinblue?
This is a very popular question. And the answer is yes and no. Both Mailchimp and Sendinblue offer similar services. Non is better than the other. The only difference is the pricing and some small features that you may or may not want. The best person to answer this question will be you, the user. Go and check those out now, they are both free to start, although they have paid versions too.
Is SendinBlue a CRM?
Sendinblue is not a CRM, though it offers a CRM. It offers many other features like landing pages, email marketing and SMS marketing. Their CRM is top of the range. Its capabilities are more or less the same as those expensive alternatives. You should try it out.
Is Sendinblue free?
Sendinblue offers a free plan that you can use as long as you want. With it you can send 300 emails a day with a limit of 9000 emails per month. You get to use the CRM, the email marketing features, the SMS marketing features and much, much more. Try it out for free to see for yourself.

ActiveCampaign Reviews
If you are still reading this post and haven't tried out Sendinblue, that basically means you want a bit more info about it.
We've got three reviews, snatched from TrustRadius (a trusted review site).
Review #1
Justin, proud owner of Dragon Blogger gave Sendinblue a 9 out of 10 rating and had this to say:
"SendinBlue is The Best for Email Campaigns on a Budget"
"I use SendinBlue to deliver all my newsletters for my media entertainment platform Dragon Blogger Technology.
I send out 1-2 email newsletters per month and have been using the service for about 2 years, it's amazing."
Review #2
Our second review came from Shacar, founder of Loginno.
He gave Sendinblue a 9 out of 10 too and had this to say:
"We tested them all and stuck with SendinBlue"
"We use SendinBlue both for transactional (sent) email and for our newsletters and update emails.
The transactional email is connected to the Gmail third party send feature.
The value that we get out of the service is an all-around subscription tool, newsletter tool, and mailing tool."
Review #3
I don't believe the score David gave Sendinblue.
He gave them a 10 out of 10.
There is no perfect thing in this world.
Anyway, let us hear what he has to say:
"One Solution That Rules Them All"
"Call it happenstance or call it predestined, either way, I am one happy user of SendinBlue and it was all because of a simple Google search and an initial free plan that was beyond generous."
I really love the vocabulary used in this review.
Oh well, it seems like the treasure hunt is over.
It's now my turn to try the software and tell you what I found.
---
ActiveCampaign Review: Our Opinion
The first thing you notice after logging in to your Sendinblue account is the easy looking interface.
I started my tour in the email marketing features section.
The email editor looks quite simplistic in style with quite a lot of email templates.
Their templates are not up to the standard of Mailchimp though.
The scheduling is very easy to initiate.
I checked out the SMS marketing features.
I found that the contacts segmentation column doesn't have "Gender" as an option. This is offered by alternatives such as Hubspot. They need to add it too.
They offer a very easy to use landing page builder with wonderful looking templates.
The stats and reports are cleanly organized and displayed.
Overall Sendinblue is a great tool for both small and mid-sized businesses.
"It is simple, for the less tech-savvy.
It is affordable, for those who run on tight budgets.
And lastly it is free to get started, for the sceptical. – Me"
I give Sendinblue a beautifully crafted score of 9 out of 10.
What do you think about Sendinblue?
How has it treated you so far?
Which marketing software do you use right now?
Comment down below, I want to hear your thoughts