Well executed email campaigns are an important and integral part of your business's marketing strategy. Thus, investing in the best email marketing tool is a smart move. Our Constant Contact vs MailChimp comparison explores the benefits that each of these top rated tools brings with them.
Typically, the email marketing tools first ensure that all your email campaigns are spot on – neatly organize designs, proper content, good quality images, and reduced possibility of spam. Additionally, these two tools ensure that your entire customer circle plus, potential ones are sufficiently reached.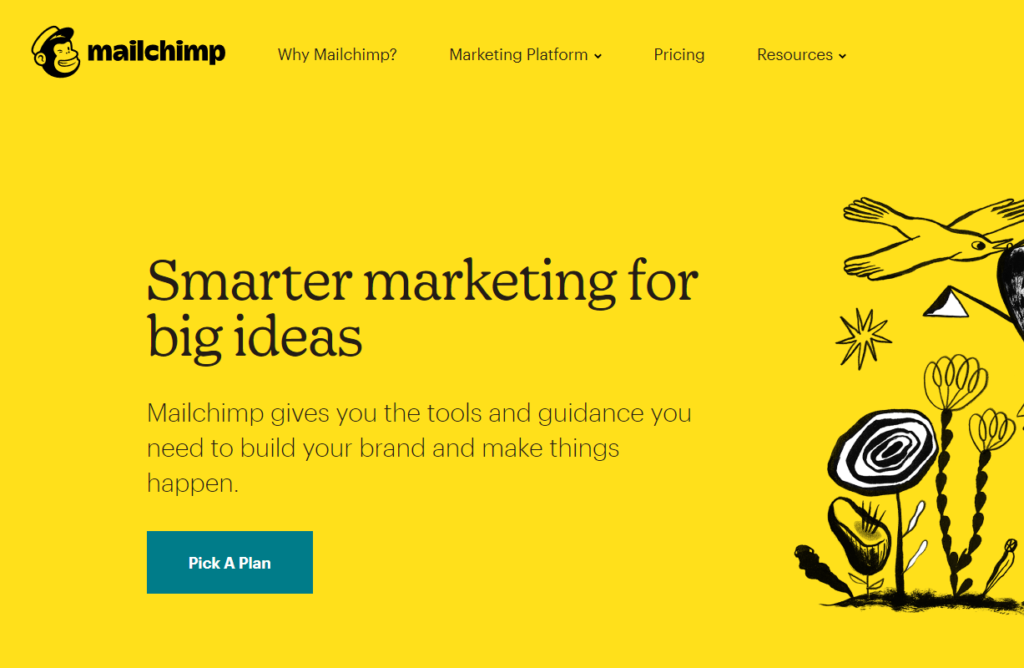 However, it is not incorrect to also mention that these two top rated email marketing tools do have side by side differences. Constant contact offers an easy to use eCommerce solution; giving you access to multiple marketing features.
Whilst MailChimp does the same; it also offers you options to create both simple and complex campaigns at an affordable price. Check out our Constant Campaign vs MailChimp comparison below to find out which tool works best for you.
Ease Of Use & Editor
MailChimp allows you to create email marketing campaigns with a super easy-to-use check style dashboard. The check style user interface caters to both beginners and seasoned users – whether you are trying to get a hang of the interface or don't want to skip any steps when building your campaigns. 
The checklist-style interface lists all the tasks you need to follow when building a campaign. If that is not enough, the in-app messaging offers help for certain features you may struggle with along the way.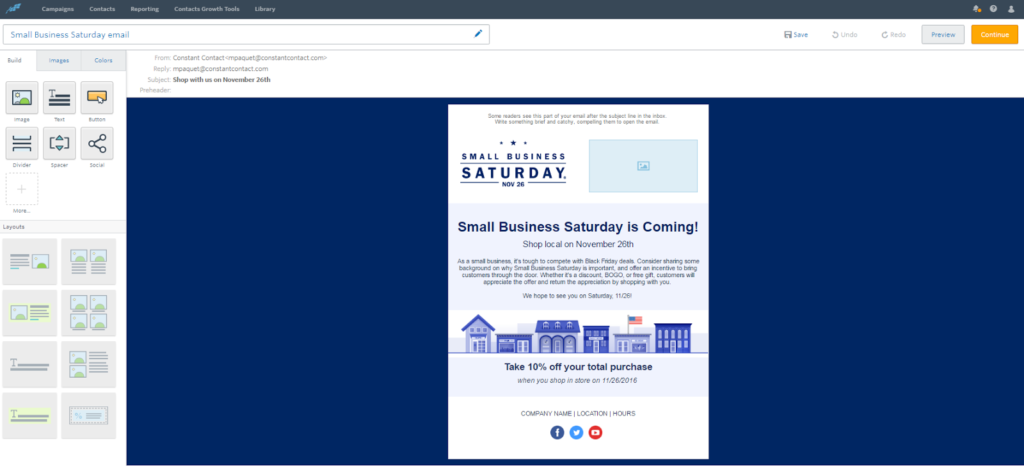 The Constant contact interface can be designed or customized based on the user's experience. So, when you log in the first time, you will be asked questions to help determine how easy the interface should ill be for you to comprehend and use. The less experienced you are, the more user friendly and easy to comprehend the interface will be, therefore, this makes the creation of different email campaigns a breeze.
Winner: Both tools are excellent in terms of ease of use – MailChimp offers in-message style guidance whilst Constant Contact tailor's its user interface based on how you answer its user experience questions.
Design and Flexibility
Both email marketing tools come with generous numbers of pre-designed templates. However, MailChimp has fewer templates. MailChimp is designed with 80 email marketing templates whilst Constant Contact has 100.
Whilst Constant Contact has more templates, MailChimp comes with the advantage of organized templates. You can easily pick the templates as they are categorized as eCommerce, newsletters, and notifications. Additionally, both tools allow you to build campaigns from scratch as well.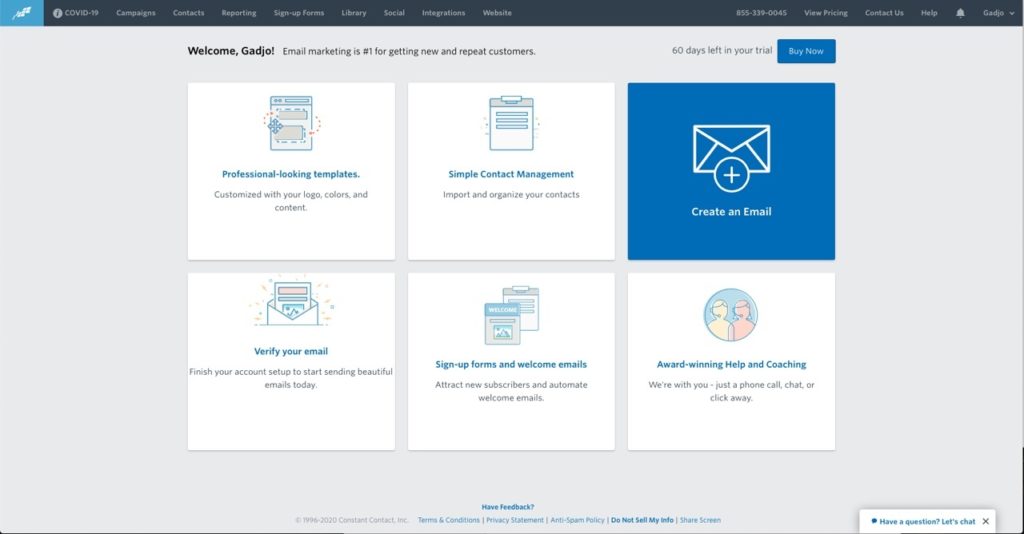 In terms of flexibility, MailChimp is a better option as it offers extra content blocks such as product recommendations. You can also make your campaigns more creative by designing how to display the images, links, and other details in your campaign.
Winner: Whilst Constant contact offers more templates, MailChimp still appears as a better option because it offers better template designs and is more flexible to use.
Email Marketing Features
MailChimp is built with numerous features – you can enjoy building your campaigns using the drag and drop editor which offers a cross section of options. You can create anything from newsletters to announcements or follow up emails. Additionally, you can select templates that are tailored for specific campaigns.
However, one can say that MailChimp's two special email marketing features are the commenting section and A/B testing functionality. The A/B testing section allows you to set a specific goal for each campaign and design the winning criteria.
Furthermore, MailChimp features a segment builder section that allows you to create segments based on previous customer behavior. Similar to MailChimp, Constant Contact offers numerous design features, yet, it focuses on appearances such as colors and styles.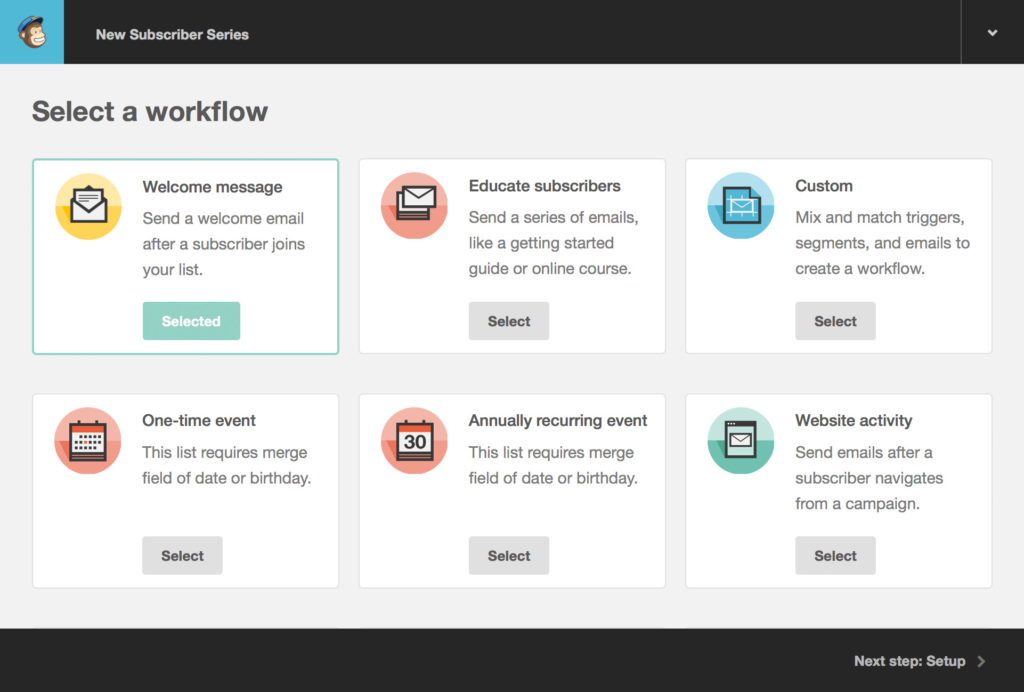 Additionally, you can also customize your templates with the addition of your choice of videos, images, RSVPs, and many other features. Furthermore, some of the other tasks you can perform on Constant Contact include editing specific blocks in your campaigns or displaying content based on age, location, or customer behavior.
You can also grow your list by incorporating several useful features such as using sign up pages and creating segments using basic conditions.
Winner: Both platforms offer a selection of useful features. However, MailChimp emerges as a winner thanks to its detailed marketing features.
Registration Forms
MailChimp comes with a wide range of registration forms that allow building your subscriber list. Using MailChimp, you can integrate custom fields, and add a series of color and style options. Furthermore, MailChimp offers opt-in messages and allows you to customize them based on your preferences.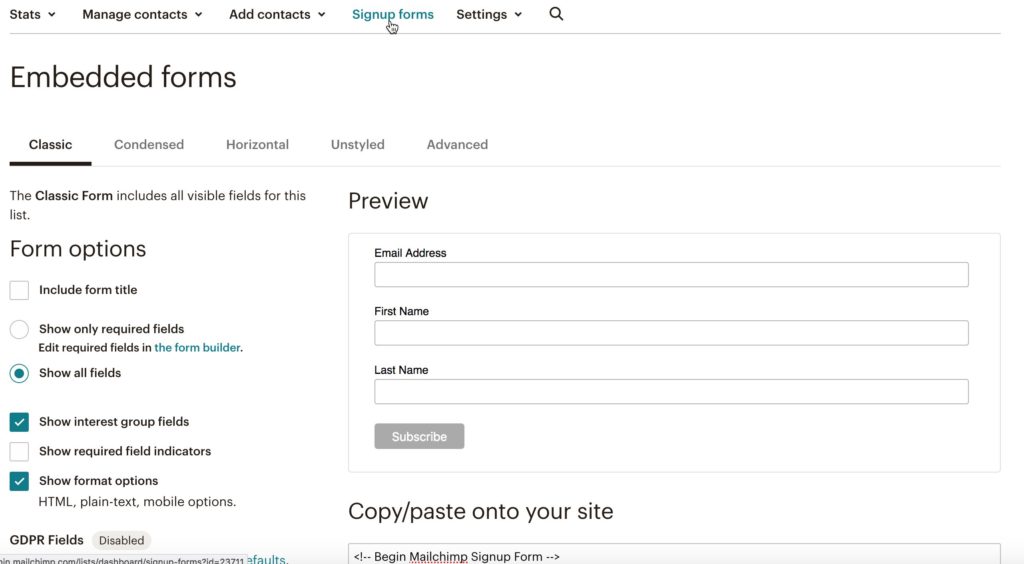 With Constant Contact, you can only manipulate the background color, font, and image banner- which make it quite limited when it comes to customizing your registration forms. This limits the customization process to these standard tick boxes. You can even use a QR code that links potential subscribers back to your sign up forms.
Winner: MailChimp offers more options when it comes to building and customizing your forms. Sure, Constant Contact has the fancy QR code but it doesn't measure up to all the cool features that MailChimp offers.
Spam & Design Testing
Your email marketing tool can have all the fancy designs and styles; however, if your email has a high chance of ending up as spam, then, all your efforts will just be in vain. Thus, for Constant Contact and MailChimp, spam and design testing is a factor worth examining.
MailChimp works with a third party tool known as Inbox Preview which allows you to see your email campaign on different devices and email platforms. However, you will enjoy up to 25 tests only with a paid membership.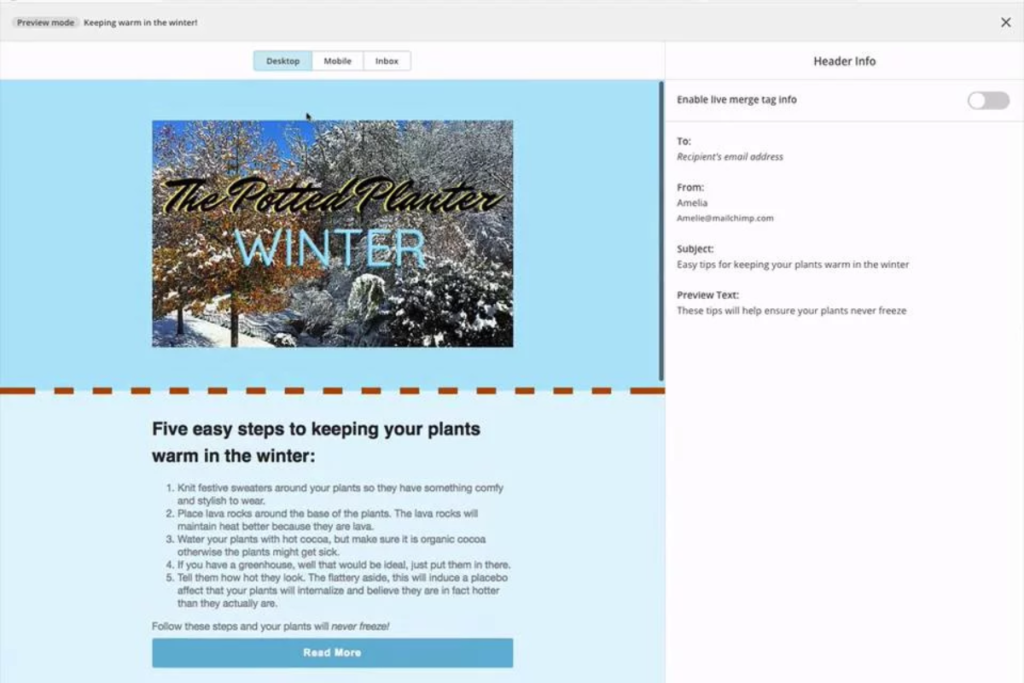 If you are not using a paid plan, then, you can always use a Litmus account to test your email design. Litmus offers MailChimp users a free 7-day trial. Constant Contact is designed with its native testing tool. However, many users don't recommend relying on it 100%. Instead, you can complement it with third party apps such as GlockApps.
Winner: MailChimp emerges as a winner. However, in general, both Mailchimp and Constant Contact don't offer the best spam and design testing compared to other platforms.
Reporting
Reporting allows you to gauge the effectiveness of your email campaigns – are they successful or useless to your subscribers? Constant Contact offers you the basics such as open rates and clicks rates. You can also integrate it with Google analytics.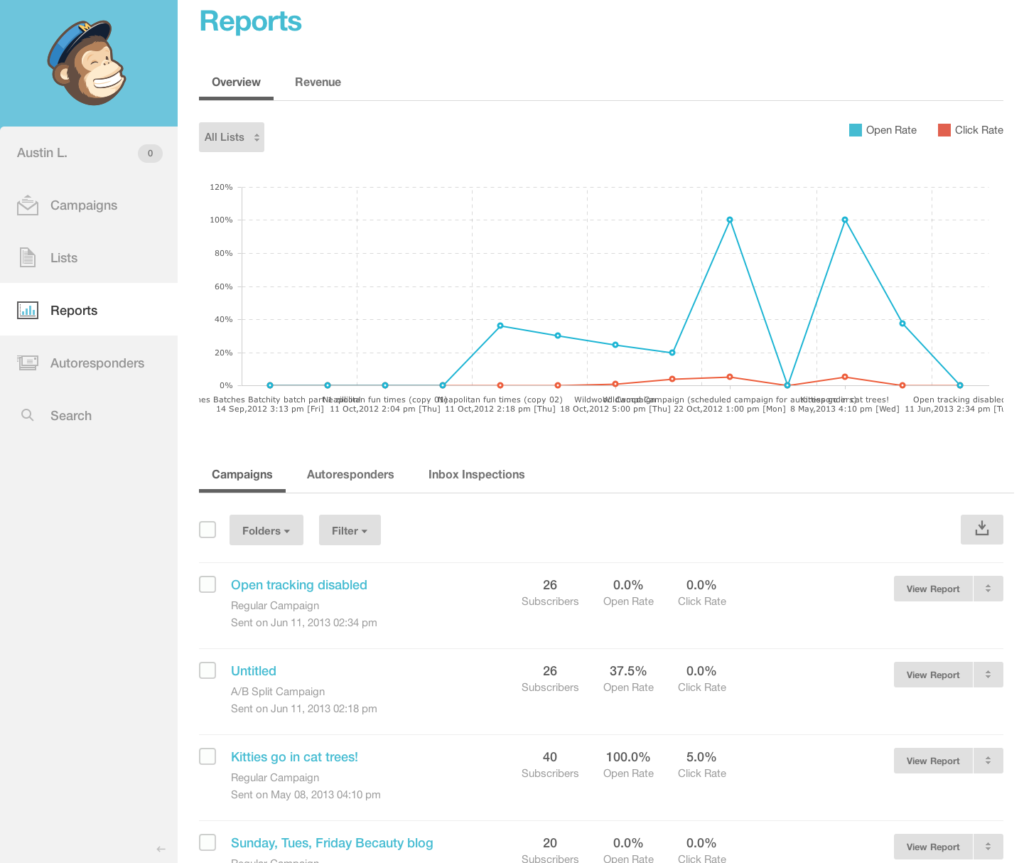 MailChimp offers all the basic reporting metrics as well as social media reporting, click maps and geo-tracking. In addition to typical platform reporting, you will enjoy unique data such as newsletter success for each of your provider, be it Yahoo or Gmail. Additionally, MailChimp's special eCommerce conversion tracking allows you to know which products were sold directly from your store and how it was done.
Winner: MailChimp offers a more comprehensive reporting design which automatically makes it a winner.
Deliverability
Deliverability examines if your email is delivered or not and where it ends up. When you send out your email campaign, it will either be delivered or undelivered. If delivered, it may end up in the inbox, spam, or even other areas such as promotions.
Email deliverability is not only affected by the platform but also factors such as content and design. If you use filler content, for example, your emails are most likely to end up as spam. We conducted deliverability tests for both MailChimp and Constant Contact using the same platforms.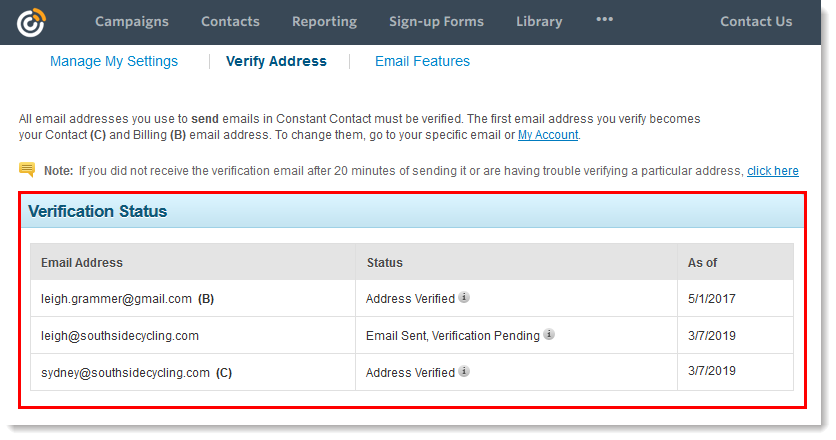 The average deliverability rate was 88% and 87% for Constant contact and MailChimp respectively. However, when it comes to emails that actually ended up in the inbox, MailChimp had a higher rate of 79% whilst Constant Contact had 76%. Yet, for spam Constant Contact had almost half the rate of MailChimp, at 5%. For undelivered messages, MailChimp had a rate of only 1% whilst constant Contac had 5%.
Winner: The overall winner is constant contact, although, MailChimp boasts a lower undelivered rate and high primary inbox rate.
Integrations & Extras (Other Features)
MailChimp offers up to 880 integrations whilst Constant Contact has only 270. Yet, each tool covers integrations in different areas including social media and eCommerce apps. MailChimp covers apps such as WooCommerce, Facebook, Instagram, and WordPress. But if you are looking to integrate with Shopify on MailChimp, then, you will be disappointed.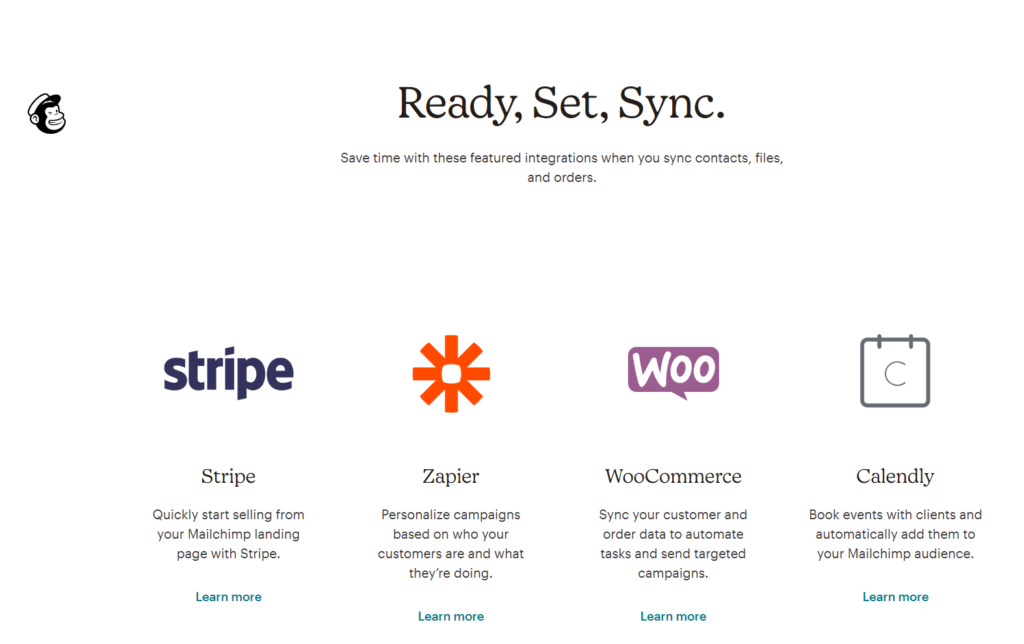 Surprisingly, MailChimp doesn't integrate with Shopify anymore. Constant Contact on the other end integrates with Shopify. Additionally, Constant Contact integrates with all the commonly used apps including Zapier, Canva, and the ones mentioned above. With Constant Contact, you can even integrate with Eventbrite, a third party events management app.
Winner: Whilst MailChimp doesn't integrate with the much loves Shopify, it still offers over 880 integrations which are almost 3 times as many integrations when compared to Constant Contact.
Support
In the Constant Contact vs MailChimp comparison, the support each platform offers is also a key determinant to which tool to opt for. After all, you can invest in the best email marketing tool; however, if you don't receive full support, you will not be able to use it to its full capacity.
Thus, support is important. MailChimp's pet peeve with many users is its limited availability or full lack of support at all. If you use a free plan, you will only be able to access the pre-designed tutorials on the website. Yet, you will not be able to enjoy real time support or follow up support in case our issue is more complex.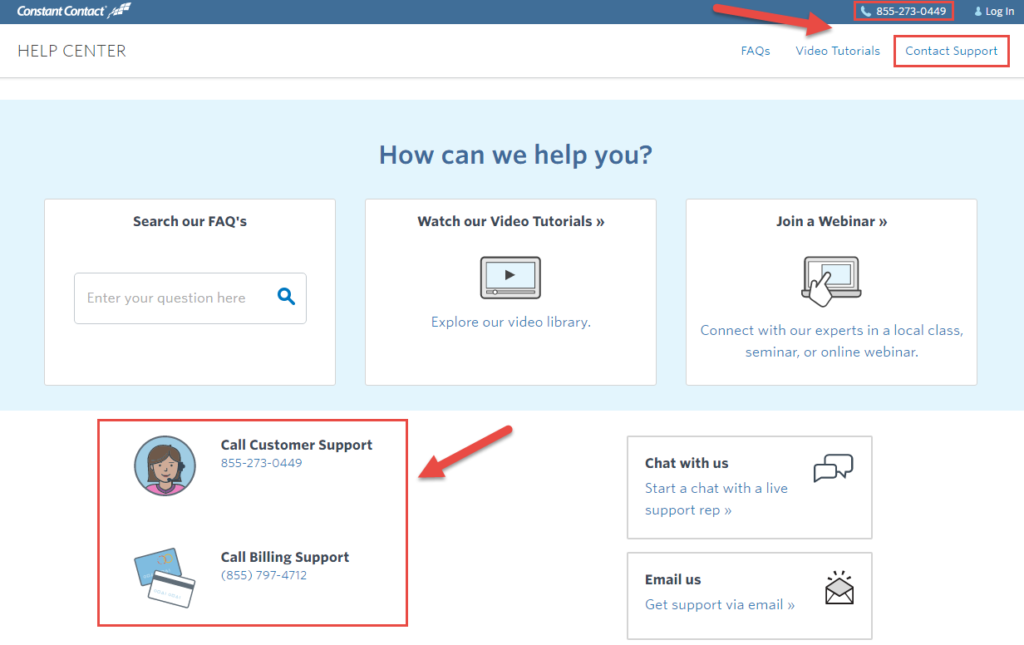 On the paid plan, you will enjoy the chat and email support; nevertheless, MailChimp doesn't offer phone support. You can still have access to the services weekdays up to late evening and weekends up to 4 in the evening.
With Constant Contact, it is the opposite. You will enjoy 24/7 phone, chat and email support. When you first sign up for Constant Contact, you will even receive a customer support call asking you if you need help in any way.
Winner: Constant Contact is an obvious winner thanks to tits detailed oriented customer support; ensuring you enjoy a better service experience from the beginning.
Price
MailChimp is tailored with a free plan. Instead, Constant Contact offers a free trial instead of up to 30 days only. Additionally, Constant Contact offers two basic plans as Email, starting at US$20 per month and Email Plus, starting a US$45 per month. The Email Plus package is ideal for businesses that engage in heavy marketing. The higher your subscriber number goes, the more the price increases.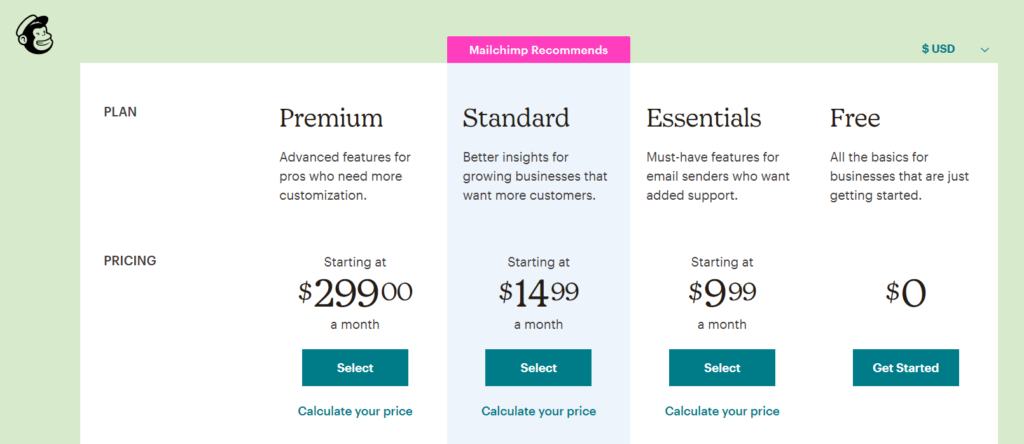 MailChimp on the other hand has 4 basic plans. The first one is a free plan that offers you up to 2000 subscribers and 12,000 emails to send per month. However, with the free plan, you will not enjoy automation features or any sort of customer support other than the video tutorials on their website.
Alternatively, you can opt for paid plans. These include the Essential plan starting at US$9.99 per month, the Standard plan starting at US14.99 per month, and the Premium plan starting at US$299 per month. Similar to Constant Contact, the more the subscriber number increases, the higher the price becomes.
Below is an idea of the price range;
| | | |
| --- | --- | --- |
| | Constant ContactPer Month | MailChimpPer Month |
| 2000 contacts + 12,000 emails | N/A | Free |
| 5000 contacts + unlimited emails | $65 | $50 |
| 10,000 contacts + unlimited emails | $95 | $75 |
Winner: When it comes to the cost, MailChimp is a better option. In addition to its free plan, even is paid plans are considerably more affordable than Constant contact. Constant Contact offers a free trial but it doesn't have a free plan.
Feature Comparison Table – Constant Contact Vs MailChimp
In the Constant vs MailChimp comparison, MailChimp emerges as the obvious winner. This is not to say that Constant Contact is not an excellent email marketing tool as well. Yet, whilst Constant Contact offers all the useful features to help improve your email marketing process, MailChimp offers a better variation. Nonetheless, when it comes to reporting, deliverability rates, and customer support, Constant Contact does a better job.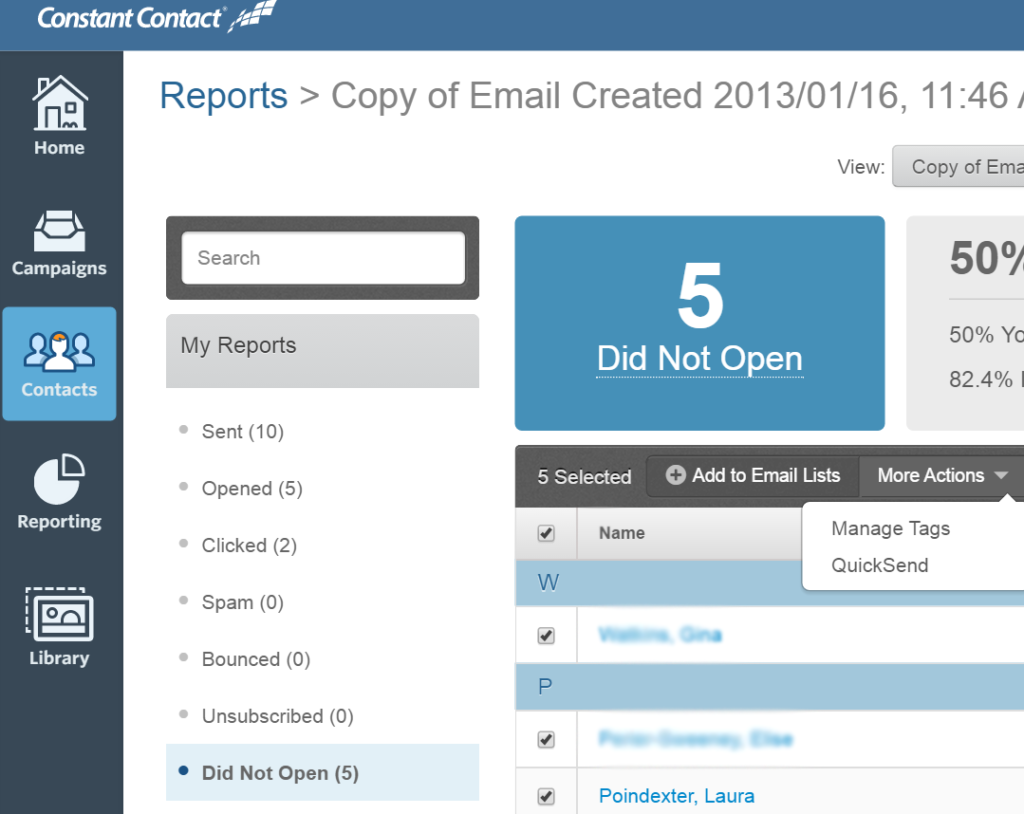 Their ease of use is comparably the same whilst MailChimp offers more reasonable price plans. Before you pick which side to go, you can always try them all to see which one works best for your business. MailChimp offers a completely free plan whilst Constant Contact offers a 30 day free trial period – which is enough to gauge whether or not the software is right from your business.
Check out the Constant Contact vs MailChimp feature comparison table to get an overview of how they perform on each section.
| | | |
| --- | --- | --- |
| | Constant Contact | MailChimp |
| Ease of use and editor | 4.6 | 4.6 |
| Design and flexibility | 4.6 | 4.8 |
| Email marketing features | 4.6 | 4.8 |
| Registration forms | 4.5 | 4.7 |
| Email and spam testing | 3.9 | 4.0 |
| Reporting | 4.1 | 4.0 |
| Deliverability | 4.1 | 4.0 |
| Integration and other features | 4.6 | 4.8 |
| Support | 4.9 | 3.9 |
| Price | 4.0 | 4.4 |
| Overall Rating | 4.39 | 4.4 |
Constant Contact Vs MailChimp – Which Is Better?
MailChimp and Constant Contact offer great features and functionality on their own. But the main point of the Constant Contact vs MailChimp comparison is to find a better option amongst these two top rated email marketing tools.
Constant contact combines an extraordinary mix of user friendly designs and superior functionality. You can help from the start – when you sign up for the tool – whether it's through the customer support call or when you first sign in and encounter the introductory questions. Thus, you are guaranteed to get well familiarized with the platform.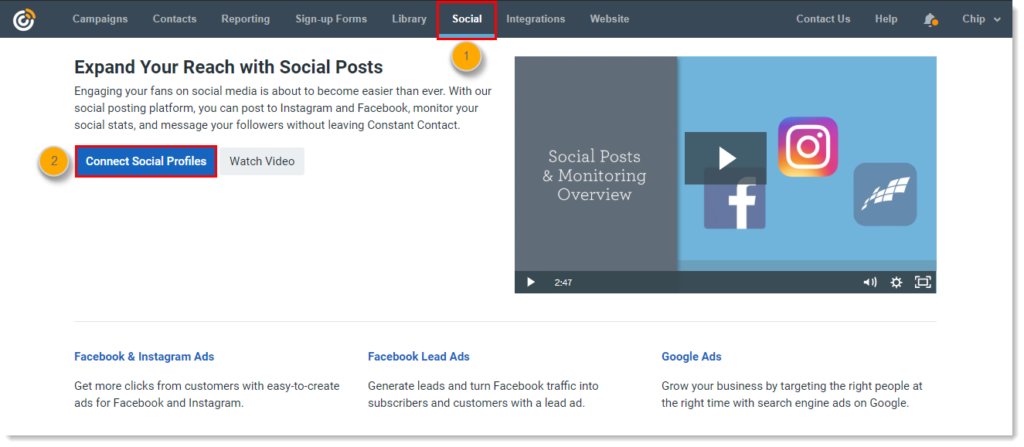 With this design, Constant Contact works for both beginners and the "tech-savvies" who have full knowledge of all the industry concepts and terms. Its greatest strengths lie in the areas of contact management and list growth. Yet, it significantly lacks in the areas of segmentation. Plus, if your business is on a tight budget, it is not the best option.
MailChimp on the other end also works best for both beginners and experienced users, although, it takes a slightly different approach. To allow you to easily transition to its interface, MailChimp offers a straight forward and easy to use interface, this is not to say that its features are bland and unsophisticated.
It's quite the opposite actually. MailChimp offers advanced features to cater to a cross section of tasks and customizations. However, its features are highly organized and intuitive user interface which makes it easy for most users to transition to.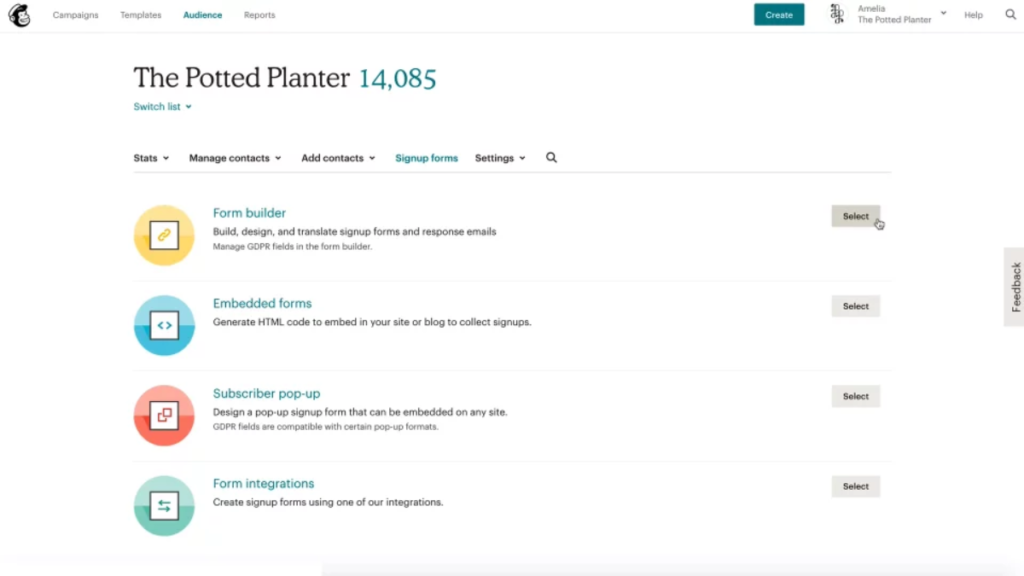 MailChimp triumphs in advanced email marketing features including segmentation. Although its limited customer support can sometimes be off-putting. It does have reasonable in-message tips to offer adequate guidance when building your campaigns.
So, the choice is all yours – Constant Contact vs MailChimp – which one will you go for? If you can't make up your mind, try them out for free. Constant Contact has a 30-day free trial whilst MailChimp has a free plan.